Billy Casper was never recognized for the golfer he was. It's difficult to say just why. It may have been the way he presented himself to the golfing public when he was in his prime.
Perhaps, too, it was because he defeated one of the game's most beloved icons, Arnold Palmer, for a national championship.
In any case, from 1954, when he turned pro, through 1979, his last year on the regular PGA Tour, Casper won 51 tournaments to place sixth on the all-time winners list. His victories included two U.S. Opens (1959 and 1966) and a Masters (1970).
He played on eight U.S. Ryder Cup teams, was a non-playing captain for one other, and won the annual Vardon Trophy for low stroke average five times. He was twice the Tour's leading money winner, and in 1970 he became the second golfer in history to win more than $1 million in career prize money.
He was twice the PGA Player of the Year and is a member of the PGA/World Golf Hall of Fame. By all accounts, he was one of the best players in American golf history.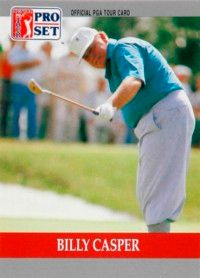 William Earl Casper Jr. was born in San Diego in 1931.
He was an early product of an outstanding junior golf program in his hometown, but he played his first golf, he once recalled, "over the rocky ground of my grandfather's ranch in New Mexico. It was very rudimentary, to say the least. In fact, it wasn't really a golf course at all."
He entered his first tournament as a 13-year-old in San Diego. "It was during World War II," he said. "I entered as a 24 handicap and shot an 80. My entry fee was refunded. I just had a hot round, but the officials wouldn't buy that."
Casper attended the University of Notre Dame for a year, then opted to play professional tournament golf.
He joined the PGA Tour in 1954, and two years later he won his first event, the Labatt Open.
From 1957-71, he won at least once every year, and usually was a multiple winner. His best season in that regard was in 1968, when he won six times on the circuit. What's more, he would win 12 times on the Senior PGA Tour from 1982-89, including a U.S. Senior Open in 1983.
In assessing his career once, Casper said he would have been more popular had he not tried to emulate the unemotional, stoic demeanor of Ben Hogan. In private, Casper was a sharp-witted individual with the guile of a pool-hall sharpie.
Indeed, he was an excellent pool player as a young man, a skill that transferred to his golf via an exceptional, even uncanny, ability to putt. In this he was unique. At address, his left hand rested against his left thigh and didn't go beyond it in the follow-through.
The technique kept him from flipping his hands and resulted in a short, compact "pop" stroke that was highly effective for a long time. His putting skills helped him capture the 1970 Masters.
Playing in an 18-hole Monday playoff with Gene Littler, Casper totaled six one-putt greens on the front nine to open up a five-stroke lead. He prevailed 69-74 for his first and only green jacket.
Casper's game from tee to green was distinguished by a slide into impact that seemed less than graceful, but perhaps only because he was always rather heavyset.
Even as a young man, Casper was constantly fighting a weight problem, and at one point he became known more for an exotic diet of health foods than for his splendid game.
Perhaps, too, his weight was off-putting to the galleries. Furthermore, upon examining his life outside of golf, he found it wanting in purpose and joined the Mormon church. Hence, a certain piety was added to his demeanor.
But his cardinal sin, as many seemed to consider it, was when in 1966 Casper came from seven strokes behind with nine holes to play to tie Palmer for the U.S. Open, played at the Olympic Club in San Francisco.
Then, in the 18-hole playoff, Casper erased a two-stroke deficit with eight holes to play to win his second Open title.
To be sure, Palmer played poorly on the back nine in both instances, but what people failed to note was that all the while Casper was shooting sensational scores -- a 3-under-par 32 on the back nine of the championship proper and a 1-under-par 34 on that same nine in the playoff.
Had he defeated anyone besides the immensely popular Palmer, Casper might have been extolled more for his achievement. In a sense, he was a victim of someone else's charisma.