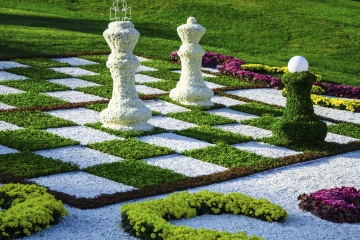 Up Next
Your house needs an outdoor chessboard, and HowStuffWorks can help you make one. Learn more about making an outdoor chessboard.
---
Author's Note: 5 Fun Water Balloon Games for Kids
Until I began researching this article, I probably hadn't played with water balloons since ... well, college. And those antics weren't really geared for children. Writing about water balloon games, however, prompted a rediscovery for the entire family. So far, we've tried all five of these games, plus a few more that devolved into water balloon fights. Not only have we had a good laugh, but the lawn is looking great. All that water's been good for everyone -- and everything.
Related Articles
Sources
Fantastic Fun and Learning. "Water Balloon Games for Kids." May 29, 2013. (Aug. 2, 2013) http://www.fantasticfunandlearning.com/water-balloon-games-for-kids.html

Love, Play and Learn. "Beat the Heat with Water Balloon Towel Toss." (Aug. 2, 2013) http://www.loveplayandlearn.com/2012/07/beat-the-heat-with-water-balloon-towel-toss.html

PBS Kids. "Water Balloon Race." (Aug. 2, 2013) http://pbskids.org/zoom/activities/games/waterballoonrace.html

Shelby, Barbara. "Outdoor Games and Activities Using Water." May 2013. (Aug. 2, 2013) Kid Activities. http://www.kidactivities.net/category/games-outside-water.aspx

Spoonful. "Water Balloon Catch." (Aug. 2, 2013) http://spoonful.com/family-fun/water-balloon-catch