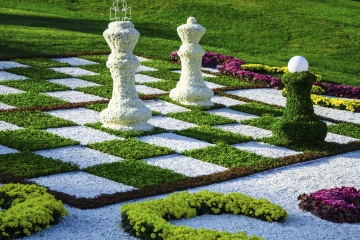 Up Next
Your house needs an outdoor chessboard, and HowStuffWorks can help you make one. Learn more about making an outdoor chessboard.
---
Author's Note: 5 Volleyball Variations to Play in Your Backyard
I can't watch (or play, certainly) a volleyball game without keeping my knees flexed. It was the No. 1 thing my junior high coach preached, and it stuck: You have to be ready to move. And if you stand there with your knees locked, it will be far too late by the time your legs get the message to move.
Of course, now that I'm ready to try out these variations of backyard volleyball (some of which I didn't even know existed until I researched this article), I'll have other techniques to consider, too, like Rockette-style kicks to volley the ball.
Related Articles
Sources
Chavez, Cooper. "How to Build a Volleyball Court in Your Backyard." Ideal Home Garden. July 26, 2011. (July 15, 2012) http://www.idealhomegarden.com/outdoor-living/how-to-build-a-volleyball-court/

Gates, Doug. "Blind Man Volleyball." MrGym.com. (July 15, 2012) http://www.mrgym.com/SportsGames/BMV.htm

Herbert Hoover Presidential Library Association. "Hooverball History." (July 15, 2012) http://www.hooverassociation.org/newsevents/hooverball/hooverball_history.php

Volleyball World Wide. "History of Volleyball." (July 15, 2012) http://www.volleyball.org/history.html