If you're really committed to backyard fun, it may be time to build a sand volleyball court. Traditional outdoor volleyball courts are typically 60 feet by 30 feet (18.3 meters by 9.1 meters) -- although you can modify the size to suit your space. If you're not interested in hiring a contractor to install a drainage system, excavate a flat area and set permanent net poles in concrete, you could just opt to add the good stuff: sand.
After putting down a layer of gravel to aid drainage, top it with landscape fabric and two feet (0.7 meters) of beach-quality sand. The fabric will keep the sand from drifting downward, through the gravel, and into the soil below [source: Chavez]. Just think: you and your friends can reenact the iconic beach volleyball scene from the classic '80s movie, "Top Gun," whenever the mood strikes.
Author's Note: 5 Volleyball Variations to Play in Your Backyard
I can't watch (or play, certainly) a volleyball game without keeping my knees flexed. It was the No. 1 thing my junior high coach preached, and it stuck: You have to be ready to move. And if you stand there with your knees locked, it will be far too late by the time your legs get the message to move.
Of course, now that I'm ready to try out these variations of backyard volleyball (some of which I didn't even know existed until I researched this article), I'll have other techniques to consider, too, like Rockette-style kicks to volley the ball.
Related Articles
Sources
Chavez, Cooper. "How to Build a Volleyball Court in Your Backyard." Ideal Home Garden. July 26, 2011. (July 15, 2012) http://www.idealhomegarden.com/outdoor-living/how-to-build-a-volleyball-court/

Gates, Doug. "Blind Man Volleyball." MrGym.com. (July 15, 2012) http://www.mrgym.com/SportsGames/BMV.htm

Herbert Hoover Presidential Library Association. "Hooverball History." (July 15, 2012) http://www.hooverassociation.org/newsevents/hooverball/hooverball_history.php

Volleyball World Wide. "History of Volleyball." (July 15, 2012) http://www.volleyball.org/history.html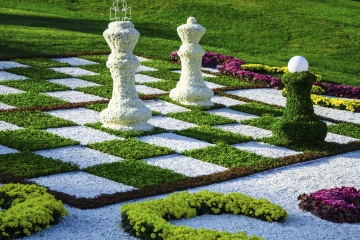 Up Next
Your house needs an outdoor chessboard, and HowStuffWorks can help you make one. Learn more about making an outdoor chessboard.
---