You're going to have to make it clear to this party crasher that he was NOT invited.
©iStockphoto/Thinkstock
Advertisement
Blood-thirsty, West Nile-infecting mosquitoes have a way of killing the mood, and dusk can be some of the worst hours to be outside if you're trying to avoid becoming a target. What can you do? Well, there's the go-to DEET-containing products. But if you're trying to go chemical-free, there are other options. Try burning citronella candles, oils (such as in a few strategically placed Tiki torches), or incense, for instance. If you're planning regular movie nights, consider landscaping your backyard to fit your bug-free movie-watching needs. For example, some plants are natural mosquito repellents and planting them around the yard will keep those flying pests under control 24/7. Some common kitchen herbs -- rosemary, basil, and lavender, specifically -- are good at controlling mosquitoes, and a study at Iowa State University found that the primary ingredient in catnip oil, nepetalactone, is a natural mosquito repellant 10 times more powerful than DEET (as an added bonus, it also repels cockroaches) [source: ScienceDaily].
Be sure you don't allow standing water in your yard, whether that's in your clogged gutters or empty planters; mosquitoes breed in standing water.
Author's Note: 5 Tips for Backyard Movie Night
I have fond memories of being a little kid, in pajamas, bundled in blankets in the back of the car with my best friend in the world and watching a showing of "Bambi" at the drive-in theater. Fast forward a couple decades and here I am making backyard considerations for entertaining. Up until seeing just how simple creating a modern-day outdoor movie setup can be, I had only to date included a s'mores-making fire pit.
Sources
Alexander, Max. "Yard Noise-Reduction." This Old House Magazine. (Aug. 9, 2013) http://www.thisoldhouse.com/toh/article/0,,1046429,00.html

Borenstein, David. "Back Pain." American College of Rheumatology. 2012. (Aug. 9, 2013) http://www.rheumatology.org/Practice/Clinical/Patients/Diseases_And_Conditions/Back_Pain/

Fawson, AmberLee. "Backyard Movie how-to." Giver's Log. July 7, 2011. (Aug. 9, 2013) http://www.giverslog.com/?p=11028

Municipal Research and Services Center of Washington (MRSC). "Noise Nuisances - Public Disturbance Noise: Audio Devices." May 2012. (Aug. 9, 2013) http://www.mrsc.org/subjects/legal/nuisances/nu-noise.aspx#audio

Newport News Department of Public Works. "Mosquito Control Tips." (Aug. 9, 2013) http://www.nngov.com/public-works/storm/resources/mosquito

Reid, Robin T. "The History of the Drive-In Movie Theater." Smithsonian.com. May 28, 2008. (Aug. 9, 2013) http://www.smithsonianmag.com/arts-culture/drive-in.html

ScienceDaily. "Catnip Repels Mosquitoes More Effectively Than DEET." Aug. 28, 2001. (Aug. 9, 2013) http://www.sciencedaily.com/releases/2001/08/010828075659.htm

Shirai, O.; Tsuda, T.; Kitagawa, S.; Naitoh, K.; Seki, T.; Kamimura, K.; and M. Morohashi. "Alcohol ingestion stimulates mosquito attraction." Journal of the Mosquito Control Association. Vol. 19, no. 2. Pages 91-96. June 18, 2002. (Aug. 9, 2013) http://www.ncbi.nlm.nih.gov/pubmed?Db=pubmed&Cmd=ShowDetailView&TermToSearch=12083361&ordinalpos=3&itool=EntrezSystem2.PEntrez.Pubmed.Pubmed_ResultsPanel.Pubmed_RVDocSum

UPI. "EWG: Four mosquito repellent ingredients effective and safe." July 20, 2013. (Aug. 9, 2013) http://www.upi.com/Health_News/2013/07/20/EWG-Four-bug-repellent-ingredients-effective-and-safe/UPI-22511374318392/?spt=hs&or=hn

White, Ian. "Amaze your friends and annoy your neighbors with your own backyard theater." Digital Trends. May 10, 2013. (Aug. 9, 2013) http://www.digitaltrends.com/home-theater/amaze-your-friends-and-annoy-your-neighbors-with-your-own-backyard-theater/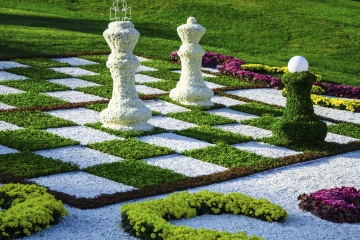 Up Next
Your house needs an outdoor chessboard, and HowStuffWorks can help you make one. Learn more about making an outdoor chessboard.
---