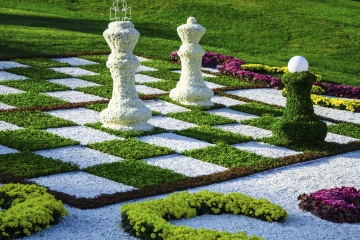 Up Next
Your house needs an outdoor chessboard, and HowStuffWorks can help you make one. Learn more about making an outdoor chessboard.
---
Author's Note: 5 Outdoor Craft Ideas for Kids
I remember how fun it was to grow strawberries in kindergarten, both in a tiny milk carton and in our class garden outside. We also used to pick wild strawberries and onions and gather pecans on the way home from school, and run around the neighborhood smelling and tasting the honeysuckle. And I grew up in the city!
We got even more exposure to nature via my grandparents' vegetable and flower gardens, and looking through the windows at their hummingbird feeders. The quick-moving, tiny birds provided constant fascination during the right season. Although they sometimes had to fight the wasps for the nectar.
We definitely got outdoors more than most kids seem to these days, so a variety of outdoor craft and plant related projects might be just the thing to help your kids buck the couch potato trend. And they might provide a nice break from the day job for us adults, too. I know I want to build a fairy house now. Or maybe a container garden. Using a shoe. There we go. A "Woman Who Lived in a Shoe"-inspired fairy garden.
Sources
Aggie Horticulture. "Drying Flowers." Texas A&M AgriLife Extension. (August 10, 2013) http://aggie-horticulture.tamu.edu/archives/parsons/misc/dryflrs.html

Anderle, Beth. "How to Build a Fairy Garden House." Creativebug. (August 4, 2013) http://crafts.creativebug.com/build-fairy-garden-house-1335.html

Beaumont, Dorinda. "Sun Prints." Parents. (August 11, 2013) http://www.parents.com/fun/arts-crafts/kid/sun-prints/

Berlingo, Jen. "Sun Prints." PBS Parents. (August 3, 2013) http://www.pbs.org/parents/crafts-for-kids/sun-prints/

Bestgardening.com. "Kids' Project - Pressing Flowers." (August 10, 2013) http://www.bestgardening.com/bgc/hub/kidspressflowers01.htm

Better Homes and Gardens. "Container Gardens." (August 10, 2013) http://www.bhg.com/gardening/container/

Better Homes and Gardens. "Great Container Gardens." (August 11, 2013) http://www.bhg.com/gardening/container/plans-ideas/container-gardens/

Canadian Living. "How to press flowers and turn them into a paper card craft." (August 4, 2013) http://www.canadianliving.com/moms/fun/how_to_press_flowers_and_turn_them_into_a_paper_card_craft.php

Country Living. "Tips for Container Gardening." (August 11, 2013) http://www.countryliving.com/outdoor/gardening/container-gardens-0309

Cumberdale, Hubert. "A Kids' Guide to Preserving Flowers." ProFlowers. February 12, 2012. (August 4, 2013) http://www.proflowers.com/guide/a-kids-guide-to-preserving-flowers

Dube, Tommy. "Sponge Sprouts." PBS Parents. (August 3, 2013) http://www.pbs.org/parents/crafts-for-kids/sponge-sprouts/

Fairy Houses. "About Fairy Houses." (August 10, 2013) http://www.fairyhouses.com/about-fairy-houses/fai

Fairy Houses. "How To Build a Fairy House." (August 4, 2010) http://www.fairyhouses.com/about-fairy-houses/how-to-build/

Freedman, Lisa. "Dried Flower Crafts." (August 4, 2013) http://www.grandparents.com/grandkids/activities-games-and-crafts/dried-flower-crafts

Freedman, Lisa. "Fun With Summer Flowers." Grandparents. (August 4, 2013) http://www.grandparents.com/grandkids/activities-games-and-crafts/fun-with-summer-flowers

Freedman, Lisa. "How to Press Flowers." Grandparents. (August 10, 2013) http://www.grandparents.com/grandkids/activities-games-and-crafts/how-to-press-flowers

Gillespie, Spike. "How to Create a Fairy Garden in a Container." HGTV. (August 3, 2013) http://www.hgtv.com/gardening-club-fairy-garden/package/index.html

Gross, Janie. "Pressed Flower Gift Card with Janie." Martha Stewart Living. (August 10, 2013) http://www.marthastewart.com/265936/pressed-flower-gift-card-with-janie

Gross, Janie. "Pressing Flowers with Janie." Martha Stewart Living. (August 10, 2013) http://www.marthastewart.com/270169/pressing-flowers-with-janie

HGTV. "Bird Feeders You Can Make with the Kids." (August 3, 2013) http://www.hgtv.com/handmade/bird-feeders-you-can-make-with-the-kids/index.html

HGTV. "Family Gardening Club - July Project: Fairy Garden." (August 3, 2013) http://www.hgtv.com/gardening-club-fairy-garden/package/index.html

Home Made Simple. "Simple Sun Print Project." Procter & Gamble. October 6, 2010. (August 4, 2013) http://www.homemadesimple.com/en-US/Crafts/Pages/simple-sun-print-project.aspx

Horton, Michelle. "7 DIY Ideas for Pressed Spring Flowers." Babble. March 27, 2013. (August 4, 2013) http://www.babble.com/home/7-diy-ideas-for-pressed-spring-flowers/

Iowa Department of Transportation Enviro-Explorers Kids' Club. "Sticky Pinecone Bird Feeder." (August 10, 2013) http://www.enviro-explorers.com/pinecone_web_page/pineconefeederindex.html

Jett, John W. "Container Gardening." West Virginia University Extension Service. (August 3, 2013) http://anr.ext.wvu.edu/lawn_garden/herbs/container_gardening

Kaboose. "Pinecone Bird Feeder." (August 10, 2013) http://crafts.kaboose.com/pine-cone-bird-feeder.html

Ketelsen, Katie A. "Fun Containers from Salvaged Materials." Better Homes and Gardens. (August 10, 2013) http://www.bhg.com/gardening/container/plans-ideas/beyond-the-ordinary-flowerpot/

Kids Gardening. "Container Gardening Guide." (August 4, 2013) http://www.kidsgardening.org/node/5261

Laurent, Anna. "Botany + Art: Photographer Anna Atkins." Garden Design. (August 11, 2013) http://www.gardendesign.com/ideas/botany-art-photographer-anna-atkins

Laurent, Anna. "DIY Sun Printing on Fabric." Garden Design. (August 11, 2013) http://www.gardendesign.com/how-to/diy-sunprint?pnid=126983#gallery-content

Lifetime Moms. "Garden Crafts for Kids: Pressed Flower Placemats." August 9, 2012. (August 10, 2013) http://moms.mylifetime.com/how-to/garden-crafts-kids-pressed-flower-placemats

Lindemann, Candace. "DIY Microwave Pressed Flowers: For Your Flower Pressing Emergencies." Naturally Educational. May 9, 2012. (August 4, 2013) http://www.naturallyeducational.com/2012/05/diy-microwave-pressed-flowers/

Lockwood, Georgene. The Complete Idiot's Guide to Crafts with Kids excerpt. "Pressing Flowers." 1998. (August 10, 2013) http://fun.familyeducation.com/crafts/flowers/47916.html

Martha Stewart Kids. "Sun Prints." 2002. (August 11, 2013) http://www.marthastewart.com/273715/sun-prints

Martha Stewart Living. "Kids' Nature Crafts - Bookshelf Terrarium." (August 10, 2013) http://www.marthastewart.com/275439/nature-crafts-for-kids/@center/276975/marthas-crafts-kids#272741

Martha Stewart Living. "Outdoor Living - Decorating Ideas - Container Gardens." (August 4, 2013) http://www.marthastewart.com/274905/container-garden-ideas/@center/276985/outdoor-living

Martha Stewart Living. "Outdoor Living - Decorating Ideas - Decorative Pots." (August 4, 2013) http://www.marthastewart.com/274343/decorative-flowerpots-and-planters/@center/276985/outdoor-living

Martha Stewart Living. "Pressing Flowers and Leaves." March 2002. (August 10, 2013) http://www.marthastewart.com/265653/pressing-flowers-and-leaves

Martha Stewart Living. "Project - Drilling Drainage Holes." (August 11, 2013) http://www.marthastewart.com/273244/drilling-drainage-holes?czone=home/decorating-outdoor-living/outdoor-living-decor

Martha Stewart Show. "Pressing Flowers." (August 10, 2013) http://www.marthastewart.com/247420/pressing-flowers

Moffat, Annie. "Bird Feeders." PBS Parents. (August 3, 2013) http://www.pbs.org/parents/crafts-for-kids/bird-feeders/

National Gardening Association. "Container Gardening Guide." KidsGardening. (August 3, 2013) http://www.kidsgardening.org/node/5261

New York Public Library Digital Gallery. "Ocean Flowers: Anna Atkins's Cyanotypes of British Algae." (August 11, 2013) http://digitalgallery.nypl.org/nypldigital/explore/?col_id=188

Nick Jr. "Winter Pinecone Bird Feeder." (August 10, 2013) http://www.nickjr.com/crafts/pinecone-birdfeeder.jhtml

Ondra, Nancy. "Stunning Low-Budget Container Gardens." HGTV. (August 10, 2013) http://www.hgtv.com/gardening/stunning-low-budget-container-gardens/pictures/index.html

Petersen, Anna. "Container Gardening for Beginners: Fun Ideas for Gardening in Small Spaces." ParentMap. March 3, 2013. (August 3, 2013) http://www.parentmap.com/article/container-gardening-for-beginners

Pikes Peak Urban Gardens. "Kids Corner - Container Gardening." (August 3, 2013) http://ppugardens.org/kids_corner/container_gardening

Pikes Peak Urban Gardens. "Kids Corner - Sunny Spot." (August 11, 2013) http://ppugardens.org/kids_corner/sunny_spot

Pretty Prudent. "Cookie Cutter Bird Feeder." April 17, 2012. (August 3, 2013) http://prudentbaby.com/2012/04/baby-kid/cookie-cutter-bird-feeder/

Rivers, Robin. "Summer Kids Crafts -- Pressing Flowers." Our Big Earth. July 13, 2010. (August 10, 2013) http://www.ourbigearth.com/2010/07/13/summer-kids-crafts-pressing-flowers/

Roll, M. and C.R. Wilson. "Container Gardens - Fact Sheet No. 7.238." Colorado State University Extension. (August 3, 2013) http://www.ext.colostate.edu/pubs/garden/07238.pdf

Southern Living. "100 Container Gardening Ideas." (August 10, 2013) http://www.southernliving.com/home-garden/gardens/creative-container-gardens-00417000074948/page103.html

Spoonful. "Backyard Bird Feeder." (August 3, 2013) http://spoonful.com/crafts/backyard-bird-feeder

Spoonful. "Fairy Houses." (August 4, 2013) http://spoonful.com/crafts/fairy-houses

Spoonful. "Preserve Backyard Flowers." (August 4, 2013) http://spoonful.com/crafts/preserve-backyard-flowers

Sprout. "Bird Feeder House." Children's Network. (August 3, 2013) http://www.sproutonline.com/crafts-and-recipes/crafts/bird-feeder-house

Summers, Melissa. "Making Sun Prints With Children: Burning Daylight--Sun Print Results." Alpha Mom. July 5, 2013. (August 11, 2013) http://alphamom.com/family-fun/crafts/making-sun-prints-with-children-burning-daylight-sun-print-results/

Taylor, Kerala. "Bright ideas: Build a Fairy House." Kaboom. February 1, 2011. (August 4, 2013) http://kaboom.org/blog/bright_ideas_build_fairy_housetaylor

University of Illinois Extension. "Successful Container Gardens - How to Select, Plant and Maintain." (August 3, 2013) http://urbanext.illinois.edu/containergardening/

Vowles, Amy. "Simple bird feeders kids can make." SheKnows Parenting. May 20, 2013. (August 3, 2013) http://www.sheknows.com/parenting/articles/991705/easy-bird-feeders-crafts-for-kids

Whyte, David B. "Colorful Chemistry Creations: Make Your Own Sun Print with Color and Sunlight!" Science Buddies. June 14, 2013. (August 11, 2013) http://www.sciencebuddies.org/science-fair-projects/project_ideas/Chem_p084.shtml

Wisconsin Department of Natural Resources. "Cone Bird Feeder." (August 10, 2013) http://dnr.wi.gov/org/caer/ce/eek/cool/birdfeed.htm

Wisconsin Department of Natural Resources. "Preserving Flowers." (August 10, 2013) http://dnr.wi.gov/org/caer/ce/eek/cool/ameliaflowers.htm