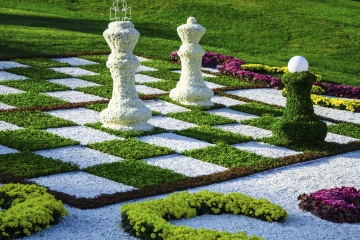 Up Next
Your house needs an outdoor chessboard, and HowStuffWorks can help you make one. Learn more about making an outdoor chessboard.
---
Author's Note: 5 Mind-blowing Backyard Playsets
I don't want to brag, but I was the proud owner of a wooden backyard fort as a kid. It was super cool; it had a slide and a tire swing. It also had a nest of yellow jackets every year, along with exposed nails. My mother later converted it to a clothesline to dry laundry in the summer. Talk about bang for your buck.
Related Articles
Sources
Butler, Barbara. "Treehouses." BarbaraButler.com. (Aug. 6, 2013) http://www.barbarabutler.com/treehouse.php

CedarWorks. "Serendipity Playsets." CedarWorks Playsets. (Aug. 6, 2013) http://www.cedarworks.com/product/serendipity

Central Park. "Playgrounds." Central Park Conservancy. 2010. (Aug. 6, 2013) http://www.centralparknyc.org/visit/things-to-do/playgrounds.html

Illinois Association of Realtors. "May home sales up 24.4 percent from a year ago; Statewide median price at $155,000." Illinois Association of Realtors. June 20, 2013. (Aug. 6, 2013) http://www.illinoisrealtor.org/node/3319

Lilliput Play Homes. "Web site." Lilliput Play Homes. (Aug. 6, 2013) http://www.lilliputplayhomes.com/