1
Not Your Grandma's Swingset
This CedarWorks model is from the company's Frolic line. It's priced at $24,240. Invest in it and you may have to turn away kids from neighboring counties. And states.
Photo courtesy CedarWorks
Advertisement
So you're more of a traditionalist, say, and have no interest in sailboat structures, clubhouses in trees -- and you certainly don't want to mess with playing around in a public park. In fact, you're so particular about your swingsets, slides and monkey bars that you'd prefer to design them yourself.
No problem -- CedarWorks has you covered with not only gasp-inducing playsets (they start at $2,500), but a tool to help you design your own plaything [source: CedarWorks]. While a lot of the designs are technically traditional (swingsets, tire swings, slides, climbing walls), the company uses only northern white cedar with bigger wood cuts. The company also donates seedlings to offset their timber, and the sets are environmentally friendly enough to be "returned to the earth" without leaching chemicals from the wood [source: CedarWorks].
Author's Note: 5 Mind-blowing Backyard Playsets
I don't want to brag, but I was the proud owner of a wooden backyard fort as a kid. It was super cool; it had a slide and a tire swing. It also had a nest of yellow jackets every year, along with exposed nails. My mother later converted it to a clothesline to dry laundry in the summer. Talk about bang for your buck.
Related Articles
Sources
Butler, Barbara. "Treehouses." BarbaraButler.com. (Aug. 6, 2013) http://www.barbarabutler.com/treehouse.php

CedarWorks. "Serendipity Playsets." CedarWorks Playsets. (Aug. 6, 2013) http://www.cedarworks.com/product/serendipity

Central Park. "Playgrounds." Central Park Conservancy. 2010. (Aug. 6, 2013) http://www.centralparknyc.org/visit/things-to-do/playgrounds.html

Illinois Association of Realtors. "May home sales up 24.4 percent from a year ago; Statewide median price at $155,000." Illinois Association of Realtors. June 20, 2013. (Aug. 6, 2013) http://www.illinoisrealtor.org/node/3319

Lilliput Play Homes. "Web site." Lilliput Play Homes. (Aug. 6, 2013) http://www.lilliputplayhomes.com/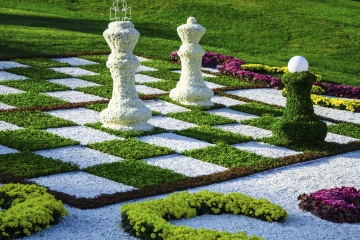 Up Next
Your house needs an outdoor chessboard, and HowStuffWorks can help you make one. Learn more about making an outdoor chessboard.
---