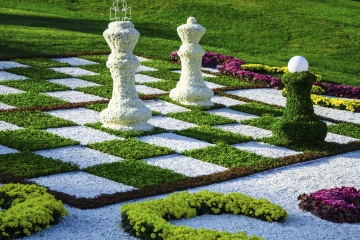 Up Next
Your house needs an outdoor chessboard, and HowStuffWorks can help you make one. Learn more about making an outdoor chessboard.
---
Author's Note: 5 Ideas for Camping in the Backyard
Let's be honest: I was always the kid who begged my parents to set up the tent in the backyard -- summer, fall, winter, spring -- only to get a little nervous by dark and wander in to sleep "just because." But it's not necessarily the sleeping-outside-all-night that is the fun; it's the independence and feeling of self-sufficiency that came with it. Every kid deserves to feel like a true mountain man or woman at least once a summer.
Related Articles
Sources
Home Made Simple. "Creative Backyard Camping." July 1, 2011. (July 31, 2013) http://www.homemadesimple.com/en-US/Garden/Pages/creative-backyard-camping.aspx

The Kitchn. "Campfire Cooking." Apartment Therapy. 2013. (July 31, 2013) http://www.thekitchn.com/campfire-cooking-best-easy-fru-87985

Martha Stewart. "Striped-Maple-Wrapped Fish." Martha Stewart Living. August 2011. (July 31, 2013) http://www.marthastewart.com/851247/striped-maple-wrapped-fish

McClue, Brian and Byrd, Deborah. "EarthSky's meteor shower guide for 2013." EarthSky. July 28, 2013. (July 31, 2013) http://earthsky.org/astronomy-essentials/earthskys-meteor-shower-guide

National Wildlife Federation. "Great American Backyard Campout." 2013. (July 31, 2013) http://www.nwf.org/Great-American-Backyard-Campout.aspx

Snook, Raven. "7 ideas to go backyard camping." Parents Magazine. 2013. (July 31, 2013) http://www.parents.com/fun/activities/outdoor/backyard-camping-ideas/#page=1

Warnick, Melody and Laura Himmelein. "14 ideas for camping out in your backyard." Parenting Magazine. 2013. (http://www.parenting.com/article/14-ideas-for-camping-out-in-your-backyard?page=0,0)