1
Behold the Starry, Starry Skies
Meteors can put on quite a show for campers who are willing to find a patch of dark sky. This display was part of the Perseids.
iStockphoto/Thinkstock
Advertisement
Even for adults, the dark can be intimidating, even in your own backyard. Pick a clear night with a full moon, and the kids might be a little less likely to scare themselves silly with ghost stories.
And certainly try to plan the night around a cool astronomical event. In the Northern Hemisphere, the Perseid meteor shower happens around August every year, and little campers will be treated to 50 to 100 meteors per hour. Expect a late night, though, as the show gets better after midnight and is best in the dark hours before dawn. If you're camping in the Southern Hemisphere, you're probably doing it in the warmer months there; try looking out for the Geminid meteor shower, which comes in roughly December and follows a similar pattern to the Perseids [source: EarthSky]. (Dark sky devotees can also catch this show in the Northern Hemisphere, too.)
If you miss a meteor shower, don't worry: You can always drag out an astronomy book and work with the kids to pick out a constellation or two. Have them try to do as the ancient Greeks did, and find pictures or stories in the web of stars. If all else fails, try to spot shooting stars and satellites.
Author's Note: 5 Ideas for Camping in the Backyard
Let's be honest: I was always the kid who begged my parents to set up the tent in the backyard -- summer, fall, winter, spring -- only to get a little nervous by dark and wander in to sleep "just because." But it's not necessarily the sleeping-outside-all-night that is the fun; it's the independence and feeling of self-sufficiency that came with it. Every kid deserves to feel like a true mountain man or woman at least once a summer.
Related Articles
Sources
Home Made Simple. "Creative Backyard Camping." July 1, 2011. (July 31, 2013) http://www.homemadesimple.com/en-US/Garden/Pages/creative-backyard-camping.aspx

The Kitchn. "Campfire Cooking." Apartment Therapy. 2013. (July 31, 2013) http://www.thekitchn.com/campfire-cooking-best-easy-fru-87985

Martha Stewart. "Striped-Maple-Wrapped Fish." Martha Stewart Living. August 2011. (July 31, 2013) http://www.marthastewart.com/851247/striped-maple-wrapped-fish

McClue, Brian and Byrd, Deborah. "EarthSky's meteor shower guide for 2013." EarthSky. July 28, 2013. (July 31, 2013) http://earthsky.org/astronomy-essentials/earthskys-meteor-shower-guide

National Wildlife Federation. "Great American Backyard Campout." 2013. (July 31, 2013) http://www.nwf.org/Great-American-Backyard-Campout.aspx

Snook, Raven. "7 ideas to go backyard camping." Parents Magazine. 2013. (July 31, 2013) http://www.parents.com/fun/activities/outdoor/backyard-camping-ideas/#page=1

Warnick, Melody and Laura Himmelein. "14 ideas for camping out in your backyard." Parenting Magazine. 2013. (http://www.parenting.com/article/14-ideas-for-camping-out-in-your-backyard?page=0,0)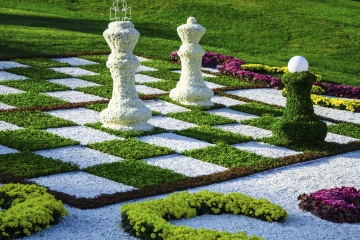 Up Next
Your house needs an outdoor chessboard, and HowStuffWorks can help you make one. Learn more about making an outdoor chessboard.
---