Jump rope is a lot more fun -- and challenging -- if you're holding a cup of water in one hand.
Jupiterimages/Brand X Pictures/Thinkstock
Children love splashing in puddles, so naturally they'll enjoy creating puddles on a hot, summer day.
For this game, you'll need at least three participants and a few simple things: water, plastic cups and a long jump rope (the kind built for one person to hold at each end).
To begin, select a person to jump the rope. While the other two players twirl the jump rope, the person in the middle jumps the rope six times -- while holding a full cup of water. The game ends by judging which of the participants completed six jumps with the most water left in their cup. Although the person with a full cup wins, we'd argue the players who get soaked are the real winners [source: Disney].
Author's Note: 5 Great Backyard Water Games
My daughters invented a backyard water game that, while surely replicated somewhere else in the world, was new to their friends. They placed an oscillating sprinkler under the trampoline, donned their swimming suits and spent the afternoon bouncing around. The sprinkler not only soaked the trampoline and made it perform differently for their acrobatic tricks, but it also soaked the girls. A win-win, in their book. And mine.
Related Articles
Sources
Disney. "Puddle Jumping." (July 27, 2013) http://spoonful.com/family-fun/puddle-jumping

Disney. "Splashdown." (July 27, 2013) http://spoonful.com/family-fun/splashdown

Family Education. "Backyard Water Games and Other Game Resources." (July 27, 2013) http://fun.familyeducation.com/games/outdoor-games/45762.html

Webster, Hanan. "Water Games to Play With Kids During the Summer." Spokane Kids. May 20, 2013. (July 27, 2013) http://spokanekidscalendar.com/backyard-water-games-to-play-with-the-kids-this-summer/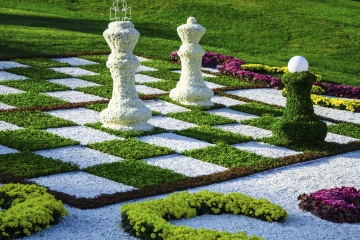 Up Next
Your house needs an outdoor chessboard, and HowStuffWorks can help you make one. Learn more about making an outdoor chessboard.
---