Let's finish up our list with something that many parents might overlook: teaching your kids about the wonders of nature, right in your own backyard. It can be the least expensive thing of all, but it can have a huge impact. My daughter loves watching birds and squirrels, and since our property has dozens of trees, there are plenty of the little critters around. For better observation opportunities, we've acquired squirrel feeders, bird feeders and a bird bath. She lets me know when they need to be filled. Once she gets older, we might get more into bird-watching by using binoculars and a guidebook. You can even grow certain plants to attract more birds.
If you want to put in a little more work, you can attract butterflies by planting a butterfly bush. You could also buy a butterfly kit, which is a habitat that houses a caterpillar (mailed separately). Your kids get to watch it form a chrysalis and hatch into a butterfly, then release it into the backyard.
Maybe there are some wild rabbits around, like in my backyard? If you decide to plant a garden, you could include something just for the bunnies.
Composting can introduce your kids to all sorts of interesting processes, and you could even try vermiposting (composting with a special type of worm). But children can be just as happy going on nature walks; finding leaves, sticks and rocks; and observing ants and other creatures just going about their day. Don't discount the value of these simple pleasures when thinking about summer fun outdoors!
Author's Note: 10 Steps to Creating a Summer Fun Area
I've gotten so many ideas for fun areas for my daughter after writing this article. I have big ambitions but not that much space or funds, but I learned that you don't really need much. You can also start small and build on as your kids grow. Right now, mine is happy with her small area, but I know she'll be wanting to spread out before I know it. It's pretty amazing what parents are putting in for their kids these days, but the time that you spend with them playing in those areas is what they'll remember more than anything else.
Related Articles
Sources
Barnes, Thomas. "Trees, Shrubs and Vines That Attract Wildlife." University of Kentucky Cooperative Extension Service. 1998. (July 13, 2012) http://www.ca.uky.edu/agc/pubs/for/for68/for68.pdf

Benca, Jeanine. "Private Sports Field Runs Afoul." Contra Costa Times. Aug. 26, 2007. (July 15, 2012) http://www.highbeam.com/doc/1G1-168073658.html

Crafting with Freckles. "20 Fun Backyard Activities." May 31, 2012. (July 13, 2012) http://frecklescrafts.com/blog/20-fun-backyard-activities/

Doerfler, Sue. "Making a splash." The Arizona Republic. May 29, 2008. (July 13, 2012) http://www.azcentral.com/style/hfe/outdoors/articles/2008/05/29/20080529waterpark0531.html

Fleck, Kara. "Simple Elements for Backyard Fun - Even Without the Backyard." Simple Kids. April 29, 2011. (July 13, 2012) http://simplekids.net/elements-of-backyard-fun-2/

Foremost Insurance Company. "Creative Playgrounds for Small Spaces." 2012. (July 13, 2012) http://www.foremost.com/mygreathome/?v=a&an=creative-playgrounds-for-small-spaces

Gilsenan, Fiona. "How to Build a Backyard Climbing Wall, Skate Ramp and BMX Jump." Popular Mechanics. Oct. 1, 2009. (July 13, 2012) http://www.popularmechanics.com/home/improvement/4277013

Hazelton, Ron. "How to Build a Playhouse for Children." Ron Hazelton.com. 2012. (July 13, 2012) http://www.ronhazelton.com/projects/how_to_build_a_play_house_for_children

Littlefield, Cindy. "Ways to Make Your Backyard More Fun." Disney Family Fun. 2012. (July 13, 2012) http://familyfun.go.com/summer/backyard-activities/backyard-forts-structures/10-ways-to-make-your-backyard-more-fun-710651/

Morgan-Harlow, Kate. "How to Build a Kid's Playhouse." Build Direct Blog. July 12, 2011. (July 13, 2012) http://blog.builddirect.com/how-to-build-kids-playhouse/

The National Gardening Association. "Parent Primer." July 15, 2012. (July 15, 2012) http://www.kidsgardening.org/parent/primer/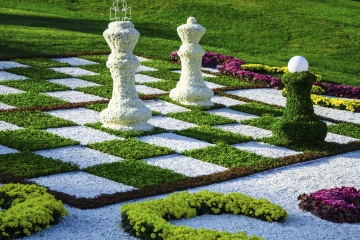 Up Next
Your house needs an outdoor chessboard, and HowStuffWorks can help you make one. Learn more about making an outdoor chessboard.
---