I played outside a lot as a kid, but nobody ever called it a "summer fun area." We had a basic swing set and a sprinkler, and I used both of them plenty in the summer months. But beyond that, we had to go down the street to the pool or just hang out in the neighborhood with our friends. The days were long, and we stayed outside for most of them until nightfall, when you could hear parents all over calling for their children to come inside.
How times have changed.
These days, parents aren't as comfortable letting their kids play unsupervised or roam their neighborhood. There might not be a neighborhood pool or park, or these facilities may not be in good condition. So why not create a safe summer fun area in your own backyard? You might immediately start envisioning costly play structures and big pools; while those are wonderful, of course, you don't have to spend a lot of money to keep your kids happy and entertained at home. With some careful planning, you can put together a summer fun area that's tailored to your children's interests and as unique as they are.
You'll want to find a place that's far enough away from the other backyard activity areas in your yard, such as the grill, patio or fire pit, but close enough to be easily seen from different vantage points in the yard. Preferably, you'll be able to see the area from inside the house, as well. Since your kids will likely be spending a good chunk of their summer playing there, keep in mind the weather conditions in your area. If it's typically very hot, consider a shady area or create shade with a gazebo or other structure (depending on what you want to do, of course). Safety should always be on your mind.
You have a place, now what's your budget? Most of us can't build a full-sized park in our own backyard, so be realistic. Be sure to include the cost of any changes you may need to make, like laying sod, spreading mulch or a rubber play floor, or relocating bushes or flowers. What about fencing? It's not just about the cost of the things that fill the play area; it's also about creating the play area itself. Also consider whether your plan includes things that can be stored outside year-round or items that will need to go into a garage or other storage area when cold weather arrives.
Watching something grow from a seed can be magical, and it's a great learning experience for a child. If you're already the gardening type, you probably have everything you need. But even if you're not, lots of resources are available. The best part about creating a garden for your child is that it can be as small or as big as your space and budget allow. Many stores sell gardening kits aimed at children, with small pots or seed trays, kid-sized tools and booklets explaining how to grow the plants. You could also just buy a few of your own. If you're working with a very small space, a couple of pots or a planter will suffice. If you have a lot of space, consider building one or more raised beds. They offer a lot of advantages over digging in the ground -- you can make sure the soil is high quality, and you tend to have a longer growing season, for example.
What to plant? An herb garden would be fun because herbs generally grow quickly, and your child can help you harvest and use them in cooking. Also consider other edible plants, like tomatoes or zucchini. If your kid is old enough, let her pick out some plants, too. Just make sure they're appropriate for your area and growing season. Whether you choose to grow flowers or plants for eating, start small. Be aware that you'll need to do some or most of the maintenance, like pest control and fertilizing, yourself.
Even if your kid never sits still, he'd probably still like a quiet, secluded place to hang out in your yard during the summer. If you have a booklover, how about a reading nook? A small clubhouse would be great for pretend play, and you can even make something specific, like a fort or a ship. Again, it doesn't have to be huge or ambitious. Even a tent will do -- teepee designs are especially popular, and you can buy or make them inexpensively. You can purchases plastic or wooden prebuilt playhouses, or you can assemble them yourself.
Parents who are really into DIY projects will discover a world of possibilities in books and Web sites on the subject. Safety should be your No. 1 priority, though. Premade structures or kits are designed to meet safety standards -- just follow the directions carefully for setup. If you want to build from scratch but aren't skilled in that area, enlist the help of people who are. Or consider taking a class. Decide whether you want a sturdier, more permanent structure or something that can be put away or moved. Some playhouses are built on concrete slabs just like real houses! As for outfitting the space, keep it simple. A basic house might just need a small cot or a table and chairs; a reading tent simply needs some comfy pillows. Make sure everything is outdoor-ready or easy to clean if there's a chance things might get wet or dirty.
We used to call them swing sets, jungle gyms and play equipment. Whatever your term, you know what I'm talking about. They might just be swings, or they might include a slide, platforms or climbing structures. Some incorporate forts and sandboxes. I think that even your classic tire-on-a-rope swing or board-and-rope swing from a tree qualifies. I've seen structures in peoples' yards that would look at home in any public playground, complete with fencing and rubber mulch (or other flooring) to ease the pain of a fall or a hard landing during play. They're beautiful, but they can also be expensive. If you want something long-lasting and permanent, be prepared to spend some money and to put in time and effort to assemble them.
However, if you have a younger child, you could also start out with one of the many plastic structures on the market. These usually have slides and maybe some swing or climbing components. They're easy to care for and put together, and you can move them around or sell them once your kid gets too big for them. Often, you can also find these plastic structures at yard sales or online for a good deal. When buying used, just check to make sure that nothing's been recalled, all of the parts are present and the structure is still sturdy.
Summers can get incredibly hot -- up to 100 degrees Fahrenheit (37.7 degrees Celsius) or higher where I live -- so getting wet is a great way to cool down. But maybe you don't have a pool in your area, can't afford the cost of membership or just want your kids to be able to enjoy themselves in the water in your own backyard. Building an in-ground pool is costly to say the least. From obtaining permits to excavating, there's a lot of work before you even get to the pool part. Then afterward, there's the cleaning and maintenance, year-round. But you'd probably enjoy it just as much as your kids.
You could also consider an above-ground pool, which can be really inexpensive depending on the size and type. If it's just for your kids to get wet, a small, inflatable pool might be enough, but you can also get a larger, hard-sided or metal-framed pool. Larger pools need more accessories like pumps, filters and ladders -- with a kiddie pool you just fill it from the backyard hose and go. There are also inflatable structures with slides, fountains and small splash areas or wading pools. The downside: These have a very limited life span. Or you can dispense with the pool altogether. One trend you may have seen at malls or parks is the splash pad -- basically a glorified sprinkler with water jets that squirt up out of concrete. An even less expensive option includes punching holes in polyvinyl chloride (PVC) pipe and using your hose to make your own sprinkler or splash area.
Is your kid really into playing sports? Then she might benefit from -- and love -- having a place to practice her favorite sports at home. Once again, how detailed you can get depends on your space and budget. Most sports need a lot of room and a level playing surface. But it also has a lot to do with your kid's sport or sports of choice. Take baseball, my personal favorite. We had balls and gloves, but we also had a pitching net and a basic pitching machine -- perfect for practicing even when nobody else was around. If you're handy, it wouldn't be tough to build a batting cage to contain the balls and keep things safe. Or you can up the experience by getting some bases and building a mini diamond. The whole family can get involved.
Basketball is even simpler. You can buy a kid-sized goal that you weight with sand or water, or you can permanently install a regulation-sized goal. Soccer fans would love a grassy area and goals -- many of them also come with "pitch back" (the ball bounces back to the kicker). These can double as a street hockey goal with the addition of some sticks and a puck. For young football players, you can buy (or make from PVC pipe) a goal post, a kicking tee or a kicking net. With a big enough yard and some chalk, you've got your own little gridiron. You could even have different sports zones in your yard if it's big enough!
The backyard sandbox is a classic fun area for kids -- there are endless play options, and you can get a wooden one or a plastic one with a lid. The next step up is a sand table, a waist-high table with a bin or bins that let kids stay relatively sand-free while still having the fun of digging. Some of these tables have drains so you can fill one side or both sides with water. (My daughter has one like this; one side also has removable bridges. There's even an umbrella for shade.)
The latest among the preschool set, though, goes beyond simple sand and water. Called sensory tables, they're designed to appeal to multiple senses and spark imagination. While they can be used indoors as well as out, many of the things you might choose to put in the table can be messy. Cleanup is much easier if you put the table out in the yard or on a deck. The simplest sensory tables are metal or wooden frames with one or more plastic tubs set inside. You can certainly make one out of an old coffee table. As for what to use in them, there are more ideas than I have space for. Food stuffs like pudding, gelatin, rice, oatmeal, beans and cooked spaghetti (sometimes with food coloring added) are fun options. You just need cups, funnels, spoons and other containers for scooping and pouring. Other things I've personally tried include shredded paper, shaving cream, homemade bubble solution, cornstarch and water, vinegar and baking soda. All of this is inexpensive and easy to clean up, and it provides hours of fun.
Much like sensory tables, obviously children can create their art indoors. But if you want to both get them outdoors and foster their creativity, why not? Sure, you can just send them outside with paper and crayons or their easels and paint. But since it's summer and you're going outdoors anyway, you might as well branch out and do something different for your outdoor art projects. You can easily set up an art area on your deck or patio on a picnic table. You can even store the supplies outdoors (protected from the elements, of course) so there's no waiting for you to hunt down everything that you need.
Where to start? Sidewalk chalk is lots of fun and cleans up the next time it rains or with a hose. You can introduce your kids to hopscotch and bring in some physical activity. You can make chalk paint by crushing those tiny pieces of broken chalk into a fine powder and adding water. Or make your own paint from scratch by mixing cornstarch, water and food coloring until it has a good paint consistency. Your driveway will become a work of art. Other outdoor painting ideas include filling water guns or spray bottles with colored water and painting on paper or other surfaces.
I rode my bike everywhere when I was a kid, and we had a steep driveway that was both fun and scary to go down. Most kids love riding just about anything with wheels. If you're lucky enough to live on a cul-de-sac or have a wide driveway or other paved area perfect for ride-ons, you're good to go for safe riding (helmets required, of course). You can find toddler-friendly bikes used for very little money, and since they'll outgrow them soon, that's often the way to go. Yes, they make powered cars and trucks, but the point is for your kids to get some exercise and use their bodies for motion.
But let's think big here. Older kids might be into skateboarding, roller skating or BMX bikes. No skate park nearby? Live off a busy road? If you have the means, you could provide your kid with a park experience in your own backyard and be the envy of the neighborhood. Some quick Googling turns up numerous sources of plans for quarter and half pipes -- they're just plywood and two-by-fours. Not a lot of space is necessary, either. With a BMX fanatic, you'll need more space to create a course (a half-acre or more), but then it's just a matter of creating the jumps, which are packed mounds of a clay and sand mixture. No woodwork is required, but it'll take a lot of that mixture.
Let's finish up our list with something that many parents might overlook: teaching your kids about the wonders of nature, right in your own backyard. It can be the least expensive thing of all, but it can have a huge impact. My daughter loves watching birds and squirrels, and since our property has dozens of trees, there are plenty of the little critters around. For better observation opportunities, we've acquired squirrel feeders, bird feeders and a bird bath. She lets me know when they need to be filled. Once she gets older, we might get more into bird-watching by using binoculars and a guidebook. You can even grow certain plants to attract more birds.
If you want to put in a little more work, you can attract butterflies by planting a butterfly bush. You could also buy a butterfly kit, which is a habitat that houses a caterpillar (mailed separately). Your kids get to watch it form a chrysalis and hatch into a butterfly, then release it into the backyard.
Maybe there are some wild rabbits around, like in my backyard? If you decide to plant a garden, you could include something just for the bunnies.
Composting can introduce your kids to all sorts of interesting processes, and you could even try vermiposting (composting with a special type of worm). But children can be just as happy going on nature walks; finding leaves, sticks and rocks; and observing ants and other creatures just going about their day. Don't discount the value of these simple pleasures when thinking about summer fun outdoors!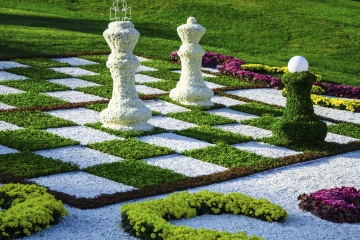 Up Next
Your house needs an outdoor chessboard, and HowStuffWorks can help you make one. Learn more about making an outdoor chessboard.
---
Author's Note: 10 Steps to Creating a Summer Fun Area
I've gotten so many ideas for fun areas for my daughter after writing this article. I have big ambitions but not that much space or funds, but I learned that you don't really need much. You can also start small and build on as your kids grow. Right now, mine is happy with her small area, but I know she'll be wanting to spread out before I know it. It's pretty amazing what parents are putting in for their kids these days, but the time that you spend with them playing in those areas is what they'll remember more than anything else.
Related Articles
Sources
Barnes, Thomas. "Trees, Shrubs and Vines That Attract Wildlife." University of Kentucky Cooperative Extension Service. 1998. (July 13, 2012) http://www.ca.uky.edu/agc/pubs/for/for68/for68.pdf

Benca, Jeanine. "Private Sports Field Runs Afoul." Contra Costa Times. Aug. 26, 2007. (July 15, 2012) http://www.highbeam.com/doc/1G1-168073658.html

Crafting with Freckles. "20 Fun Backyard Activities." May 31, 2012. (July 13, 2012) http://frecklescrafts.com/blog/20-fun-backyard-activities/

Doerfler, Sue. "Making a splash." The Arizona Republic. May 29, 2008. (July 13, 2012) http://www.azcentral.com/style/hfe/outdoors/articles/2008/05/29/20080529waterpark0531.html

Fleck, Kara. "Simple Elements for Backyard Fun - Even Without the Backyard." Simple Kids. April 29, 2011. (July 13, 2012) http://simplekids.net/elements-of-backyard-fun-2/

Foremost Insurance Company. "Creative Playgrounds for Small Spaces." 2012. (July 13, 2012) http://www.foremost.com/mygreathome/?v=a&an=creative-playgrounds-for-small-spaces

Gilsenan, Fiona. "How to Build a Backyard Climbing Wall, Skate Ramp and BMX Jump." Popular Mechanics. Oct. 1, 2009. (July 13, 2012) http://www.popularmechanics.com/home/improvement/4277013

Hazelton, Ron. "How to Build a Playhouse for Children." Ron Hazelton.com. 2012. (July 13, 2012) http://www.ronhazelton.com/projects/how_to_build_a_play_house_for_children

Littlefield, Cindy. "Ways to Make Your Backyard More Fun." Disney Family Fun. 2012. (July 13, 2012) http://familyfun.go.com/summer/backyard-activities/backyard-forts-structures/10-ways-to-make-your-backyard-more-fun-710651/

Morgan-Harlow, Kate. "How to Build a Kid's Playhouse." Build Direct Blog. July 12, 2011. (July 13, 2012) http://blog.builddirect.com/how-to-build-kids-playhouse/

The National Gardening Association. "Parent Primer." July 15, 2012. (July 15, 2012) http://www.kidsgardening.org/parent/primer/