Safety should really be at the heart of each step of planning, building and using a backyard skate park. Safety starts with the planning process. Sure, it sounds cool to build a 20-foot (6.1-meter) halfpipe. But have you ever ridden on a 20-foot halfpipe? How about your friends? Don't plan on building anything that will guarantee a trip to the hospital. Plan to leave a lot of space between skate park components, and don't build where there are overhead obstacles like tree limbs or electrical wires.
During the construction of your backyard skate park, ensure that you and everyone involved in the project is aware of basic safety precautions. Don't let inexperienced and younger helpers use the jigsaw. That's the most dangerous tool that's required to make most wooden components. Always wear protective glasses when operating the jigsaw. And always unplug the jigsaw or remove its battery pack before making adjustments to the blade or replacing the blade.
If you decide to use concrete to build your backyard skate park, wear long sleeves, long pants, gloves, and protective glasses, since wet concrete can irritate the skin and eyes [source: SkateParkGuide.com].
Once the backyard skate park is finished, you should strictly enforce a helmet and pads rule for your kids and their friends. Helmets are a critical component of skateboard safety. You can recover from a broken bone or stitches, but a brain injury is irreversible.
For lots more information on skateboarding and backyard fun, explore the links below.
Author's Note: 10 Steps to Building a Backyard Skate Park
When I was a kid, the older boy across the street and his dad built a 4-foot quarter pipe in their driveway. I begged my parents for a skateboard for my birthday, and they went along with it, buying me a Kmart special that was still the coolest thing I'd ever laid my hands on. As I tried to stay upright, making tentative turns in my driveway, I would see the kid across the street pulling wicked tricks on his ramp, stalling for a second on the lip or turning a quick 180 at the top of the ramp. I dreamed of the day I would be good enough to walk across the street, roll up to that ramp and pull some insane air. But that's all it ever was for me -- a dream. Turns out that falling down hurts, and pain isn't really my thing. So much for Extreme Dave.
Related Articles
5 Tips for Your First Time on a Skateboard
Sources
Balcom, Chad. Skaters for Public Skateparks. "Ten DIY Skateparks." May 10, 2011 (July 20, 2012) http://www.skatepark.org/park-development/2011/05/ten-diy-skateparks/

City of Berkeley. Berkeley Municipal Code. "Accessory Buildings and Structures" (July 20, 2012) http://www.codepublishing.com/CA/Berkeley/cgi/NewSmartCompile.pl?code=Berkeley&ext=html&key=336&path=/ca/berkeley/html/Berkeley23D/Berkeley23D08/Berkeley23D08.html

Dahlen, Rick. "Halfpipe Plans." (July 20, 2012) http://www.popularmechanics.com/cm/popularmechanics/pdf/skateboard-ramp-plans.pdf

Gilje, Shelby. The Seattle Times. "Skateboard Ramps Tests Neighbors' Nerves and City Codes." July 8, 1990 (July 20, 2012) http://community.seattletimes.nwsource.com/archive/?date=19900708&slug=1081202

Fernandez, Kim. In Sync from Erie Insurance. "Going to Extremes." Summer 2005 (July 20, 2012) http://www.kimfernandez.com/clips/InSyncSummer05.pdf

Hamm, Keith. ESPN. "The Rising Costs of DIY Skateparks." January 20, 2012 (July 20, 2012) http://espn.go.com/action/skateboarding/story/_/id/7484738/rising-costs-diy-skateparks-calif-pacific-nw-bring-new-challenges-skateboarders

Skateparkguide.com. Resources for Modern Skateparks. "Concrete Skatepark Construction" (July 20, 2012) http://skateparkguide.com/how_quality_skateparks_are_built.html

Starnes, Todd. Fox News. "Dad Fights Zoning Board's Order to Destroy Backyard Tree House." October 17, 2011 (July 20, 2012) http://www.foxnews.com/us/2011/10/17/dad-fights-zoning-boards-order-to-destroy-backyard-tree-house/

Waters, Teresa. Skaters for Public Skateparks. "2011 Skateboarding Fatalities." January 30, 2012 (July 20, 2012) http://www.skatepark.org/park-development/2012/01/2011-skateboarding-fatalities/#fatalitiesActivity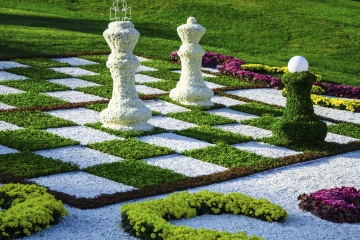 Up Next
Your house needs an outdoor chessboard, and HowStuffWorks can help you make one. Learn more about making an outdoor chessboard.
---