If you've ever seen a Cirque du Soleil show, you know to expect a rich integration of stunning visuals, evocative music and dazzling performances. But the Canadian entertainment company also exhibits technical mastery — and its show "Luzia" has the 50-foot (15-meter) onstage waterfall to prove it.
The show itself, currently on tour in North America, is a dreamlike journey through Mexico, full of high-end acrobatics, juggling, puppetry and clowns. The show highlights Mexican culture and native insect life, but the star is the water. In order to enable onstage rain and a wading pool, Cirque designed the entire set around a digital water curtain. If you're ever seen the aquatic Cirque show "O," you'll know this isn't the first time the company has built a water-centric piece.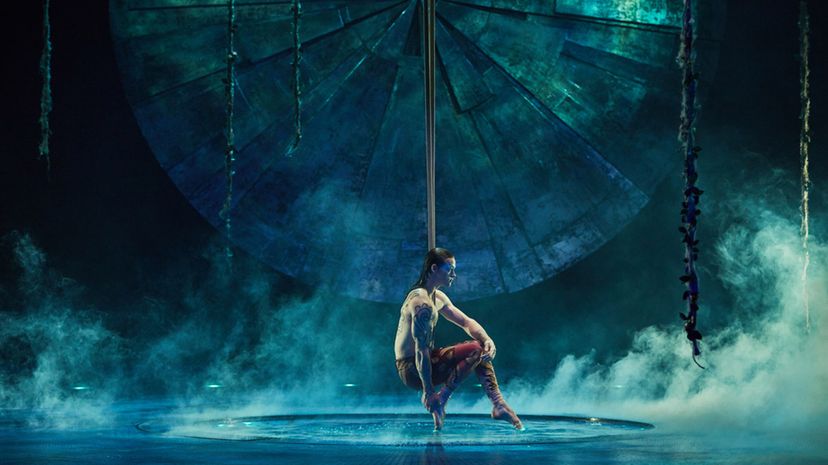 During "Luzia," audience witness a spectacle of falling rain, especially mesmerizing when it displays patterns and pictures in its cascade. Behind the scenes, the technical aspects of this effect are equally impressive.
"Every time we create a production, we strive to come-up with performances and stage pictures that will surprise our audience and evoke their emotions," says Cirque publicist Francis Jalbert. "'Luzia' is a complex show as we incorporated technology we had never worked with before. Playing with water onstage under the Big Top brought us to find ways to recycle the water, heat it, clean it and pump it all the way at the top of the tent for the acts involving rain."
And "Luzia" uses a lot of water — 1,585 gallons (6,000 liters) for a single performance, in fact. And since the show recycles the water for all of a given city's shows, they have to run it all through a filtration and disinfection system. After all, an aerial strap performance is death-defying enough without the risk of cholera. The backstage team stores the water at a constant 82 degrees F (28 degrees C) before pumping it up to a rotating array of 174 spray nozzles 56 feet (17 meters) above the stage.
"We also had to figure out how to dry the stage quickly for acts requiring a dry surface," says Jalbert, "and find out how to protect microphones and other technical equipment from getting wet. That's why the creation process of a show at Cirque du Soleil lasts over two years; we constantly come up with new technologies and learn how to master them as we go to bring the vision of the creators to life."
But the technology is only one aspect of the show. The human performers in "Luzia" also had to adjust to this new performance element. Which tricks could be performed wet? How might they avoid the risk of slippery acrobatic props and water-heavy garments?
The Cirque team dreamed up several creative solutions. For instance, they constructed a special "wet" trapeze out of sailing rope and a wooden bar for improved grip. The human-centered "Cyr wheel" used in the show is covered with a bike tire, because otherwise it would prove impossible to manipulate on a wet surface.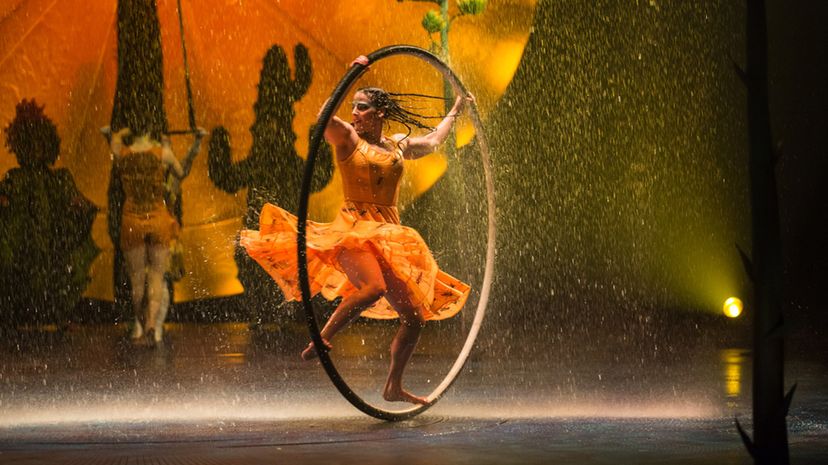 Was all of this technical effort worth it? According to Jalbert, the answer is in the audience reaction.
"You can see the amazement on their faces as they first see the rain and feel the coolness of the water in the air. There is a particular moment where shapes and designs appear in the rain; it's literally raining images of animals and plants. The audience reacts loudly as they've never seen something like this before and are moved by the combination of this simple moment with our powerful musical score."