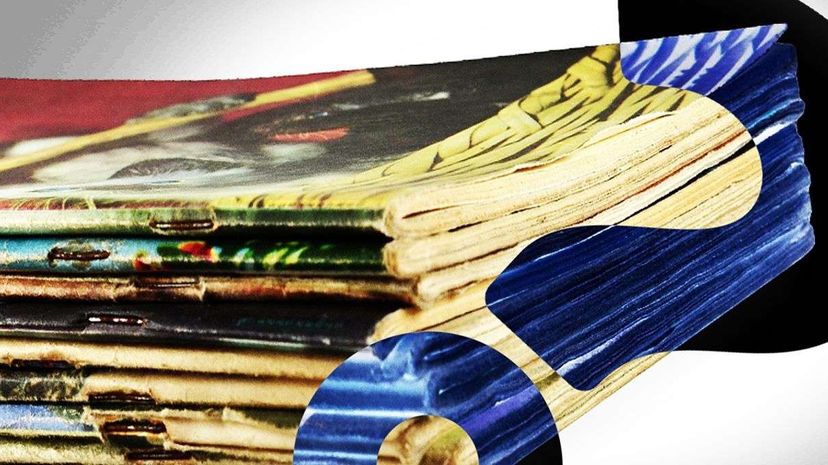 Time and again we've heard how digital content (like this article and the video above) are killing print media. But it turns out there's at least one bulletproof medium in the face of digitization: comic books.
Comic characters pop up in all kinds of other media now, from television, to film, to the internet. But according to a breakdown by Tom DiChristopher at CNBC, print comic book revenues are still climbing, alongside the concurrent rise of digital comics. Plus, at a time when many people are ditching their bulky, physical media possessions, good, old floppy comic books have been selling better for the last five years writes io9's James Whitbrook.
If you're reading this and wondering what "digital comics" are, here's a quick primer. Two different business models let you read comic books on your desktop, tablet or phone. The first is a purchase model, dominated by comiXology since its launch in 2007. You simply buy a digital comic, download it to an application on your device and start reading. It's been so successful that Amazon acquired the company in 2014 for an undisclosed sum.
The second model is subscription-based and promoted as a "Netflix-for-comics." Marvel has a service like this called Marvel Unlimited that lets you read most of its back catalog up until a few months ago for $9.99 monthly. Last month, comiXology launched its own subscription service ($5.99 monthly), also called Unlimited and designed like a gateway drug for new readers. There are other subscription services, too, like Scribd ($8.99 monthly) Crunchyroll (offers a free membership and premium memberships starting at $6.95 monthly) and more.
If we're just looking at the first purchase model, digital comics surged from a $1 million business in 2007 to $100 million in 2014, says Comichron's John Jackson Miller. At the same time, signs indicate this may be peaking, with growth currently slowing down. Meanwhile, printed comic books sales still are steadily rising since their all-time low in 2011. In 2014, printed versions of single issues and collected volumes were an $835 million business, notes Miller. That's more than eight times the revenue of digital comics at their current peak! So print comics are doing just fine. (Note: Comprehensive year-end 2015 numbers weren't available when we ran this piece.)
There are still dips and bumps along the way. For instance, April 2016 saw sales go down as many publishers released fewer comics. But still, the industry is doing great. As David Harper from SKTCHD pointed out, more comics and graphic novels are being released now than any time since 1993. Compared to the circulation and ad revenue of newspapers and magazines, that's tremendous.
So why don't digital comics cannibalize the print comics market? Well, the CNBC piece speculates that the collectible nature of the medium might have something to do with it, similar to the popularity of vinyl records. Another possibility may be that print and digital comics have completely different audiences. Print buyers may be collectors, or prefer the tactile nature of the medium. While digital readers might live far away from a comic book store, or just want to cut down on the stuff filling their home.
Either way, most comics experts agree that the industry is providing better quality comics, with a broad variety of themes appealing to a growing audience. That kind of progress can only help sell more books, regardless of whether they're physical or digital.
Disclaimer: I create comics that I sell in both print and digital. But this story was done because it's an interesting look at how we consume media and culture.