Vincent van Gogh and Paul Gauguin
Lacking a like-minded circle of companions in Arles, van Gogh confessed to Theo that he was lonely. Although he claimed that his work diminished his need for company, he expressed the desire to create a community of artists who would live and paint together under the high colors and hot sun of Provence.

Paul Gauguin painted Vision After the Sermon in
Brittany, before he stayed with van Gogh in Arles.
He enlisted Theo's help to bring his vision of the "Studio of the South" into being, arguing that shared expenses would reduce the cost of living in Arles. In the company of other artists, van Gogh could reap the benefits of mutual encouragement and criticism, and he confessed to Theo, "I wish everybody would come south like me."

In July, Uncle Cent died, naming Theo as his main heir. In his typical generosity, Theo shared his windfall with his brother, and van Gogh used the money to convert the space that he had been renting for studio and storage into an inviting residence.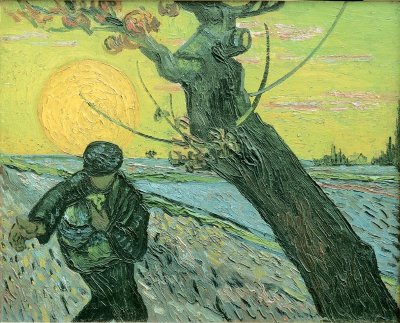 Vincent van Gogh's The Sower is an oil on
canvas (12-1/2 x 15-3/4 inches) housed in the
van Gogh Museum in Amsterdam.
With an exterior painted the color of fresh butter, the "Yellow House" had whitewashed interior walls and four rooms: two on the ground floor to be used for a studio and a kitchen and two above to provide a bedroom for van Gogh and room for a guest.

Van Gogh hoped his first guest would be Paul Gauguin, whom he had met in Paris the previous November, when he and Theo visited the painter's studio. Both van Gogh brothers had been impressed with Gauguin's paintings from a recent trip to Martinique. Theo took several on consignment, and van Gogh persuaded Gauguin to trade one of his tropical landscapes with figures for two of his own studies of sunflowers.

Paul Gaugin painted Van
Gogh Painting Sunflowers
during his time in the
Yellow House.
Now Gauguin was living in Brittany, where he worked in a bold, unorthodox manner that depended as much upon imagination as observation. He had already approached Theo for financial help, and van Gogh had a solution: Give Gauguin a train ticket and encourage him to move to Arles.

While Gauguin did not reject van Gogh's invitation, he repeatedly postponed his travel plans. His ambivalence did not deter van Gogh, who quickly immersed himself in preparing the Yellow House for Gauguin's arrival, decorating the guest room with fine furnishings and his recent paintings of radiant sunflower bouquets.

Throughout the summer and into the early autumn, Gauguin and van Gogh exchanged letters, sharing their ideas and descriptions of their current work. But, as Gauguin delayed his visit, van Gogh's anxiety rose. By the end of October, when Gauguin finally arrived in Arles, van Gogh was overwrought with anticipation.
At first Gauguin proved a calming presence, taking over the household chores, cooking nourishing meals, and fascinating van Gogh with tales of his travels with the merchant marines.

Van Gogh took Gauguin to his favorite painting sites in Arles where they worked together. Gauguin's powerful image of spirituality in Brittany, Vision After the Sermon (1888), inspired van Gogh to be even bolder in his color and his composition, as seen in his reinterpretation of The Sower, a longstanding favorite motif.

As the weeks passed, and inclement weather forced them to work more often in the cramped confines of the Yellow House, their different views often led to heated debates. Gauguin urged van Gogh to rely more on his memory and imagination, but van Gogh remained firmly committed to working in the open air, in front of his model.

In his letters to Theo, van Gogh described his struggle to incorporate Gauguin's suggestions into his method. Gauguin was more blunt, writing to their mutual friend Bernard that Arles fell short of his expectations, and that he and van Gogh did not see eye to eye.

In December, Gauguin painted a portrait of van Gogh painting a sunflower bouquet, reflecting his sympathy with van Gogh's endeavors, but whenever he raised the topic of departure, van Gogh would become agitated.
According to Gauguin's account, on the evening of December 23, 1888, van Gogh confronted him with a razor, demanding to know if he intended to leave Arles. Gauguin's confirmation further upset van Gogh, who turned and fled. Disturbed by his companion's irrational behavior, Gauguin spent the night in a hotel.

The following morning when Gauguin returned to the Yellow House, he was shocked to find it spattered with blood. Taken into custody by the police for interrogation, he discovered that van Gogh had returned home after their confrontation and mutilated his left ear. Bleeding profusely, he went to a brothel and was then taken to a hospital. Upon release from the authorities, Gauguin telegraphed Theo, who arrived on the next morning's train.

Convinced that his brother's condition was stable, Theo took the night train back to Paris. Gauguin rode with him, and van Gogh never saw him again.
Vincent van Gogh was plagued by health problems throughout his brief life. Keep reading to learn how these health conditions impacted his paintings.

To learn more about art, famous artists, and art history, check out: