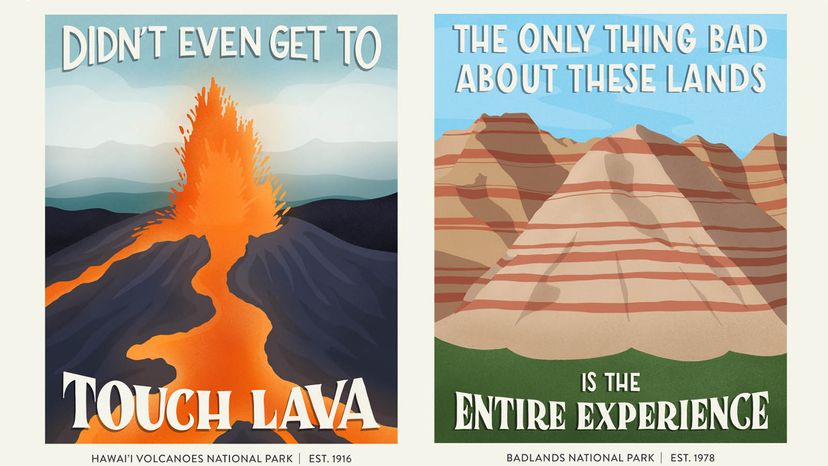 Artist and illustrator Amber Share has made comedy gold out of one-star national park reviews.
Amber Share
Let's face it, 2020 hasn't been anyone's idea of a good time. If you've been sitting on your couch for months on end, you may have thought about at least a couple of trips you took in the past that you now take for granted. Like that time you visited a national park and were so cranky afterward that you went online, and, well complained.
You're not alone. Those one-star reviews of America's national parks abound, and are the inspiration for the Subpar Parks project, a collection of artwork by Raleigh, North Carolina's Amber Share. She's a sought-after illustrator and graphic designer with a fondness for the great outdoors and a rich sense of humor.
"I had an online course doing passion projects and side projects, and I really wanted to do something that would be sort of focused on the parks or the outdoors," Share says.
The Comedy Gold in One-star Reviews
Share had what she described as a "lightning bolt moment" when she came across one-star reviews of national parks on reddit, and then discovered there were, in fact, sad reviews of all 62 national parks. These provided the fodder she needed to launch her project designing park-inspired artwork from the best of the worst reviews online. The project, which Share started in December 2019, quickly gained Instagram followers in the hundreds of thousands.
Though the designs of Subpar Parks mimic landscape photography, Share's illustration style is minimalistic, focusing on bold shapes and colors. Each design takes her about five hours, Share says, though that can vary based on its complexity.
She hand-letters the copy on each image, quoting directly from the one-star reviews. The striking — yet simple — captions make Share's work instantly recognizable amongst other landscape illustrations, even before the words click. Some parks, Share says, have so many negative reviews that it's hard to choose just one quote.
"I'm totally focused on people who criticize the nature part of the experience just because I happen to think that's a lot funnier," she says.
The Reviews Speak for Themselves
Some designs literally illustrate the reviews. For example, her design for Yosemite National Park shows trees and rocks, with the caption "Trees block view and there are too many gray rocks." Others highlight why the chosen review is ridiculous, such as the design for Biscayne National Park, which depicts a sea turtle swimming toward a coral reef and reads, "Phone signal is impossible."
"I thought it was especially funny to review about not having cellphone service there because most of [Biscayne National Park] is underwater," Share says.
Share's favorite Subpar Parks design, Arches National Park, was the first she posted online. It shows an arch-shaped rock formation with the text, "Looks nothing like the license plate."
"I just think it's really funny to be comparing nature to the illustrations because the one thing about my project that's always sort of made me laugh is that I can't possibly capture how cool these parks are to begin with," she explains.
Of course, things have changed a lot since Share first posted the Arches image in December 2019, making the project a little more bittersweet. "My husband and I have joked that I'll never really know what this project would have looked like if COVID hadn't happened just because at this point, you know, they're inseparable," Share says. "It's a little bit of a soul salve for [my fans], because they can't be at the parks they want to be at right now."
Not Everybody Loves It
Subpar Parks isn't universally adored, though. Share says some people accuse her of making fun of the parks because they don't realize she's quoting actual reviews, and others just think she's being too negative.
"I just gently try to explain to them that I actually think this is really positive because I'm trying to teach people to laugh at the negativity and that they don't have to get so sucked into it," she explains. "Usually people kind of come around to it. I've had a couple of people who it's just not for them and that's totally fine."
It took Share eight months to complete art for all 62 parks. She finished her last piece Aug. 14, but has decided to keep up her work focusing now on international and other parks.
"It's just been so popular. I really didn't expect it," Share says. "[Subpar Parks] really goes beyond the parks and the negative reviews of them. I think it really is just about our relationship with negativity. We all have those tendencies to be a curmudgeon and angrily write a review, but if you're on the receiving end of that kind of feedback, you don't have to take it personally. You can shake it off and laugh at it."