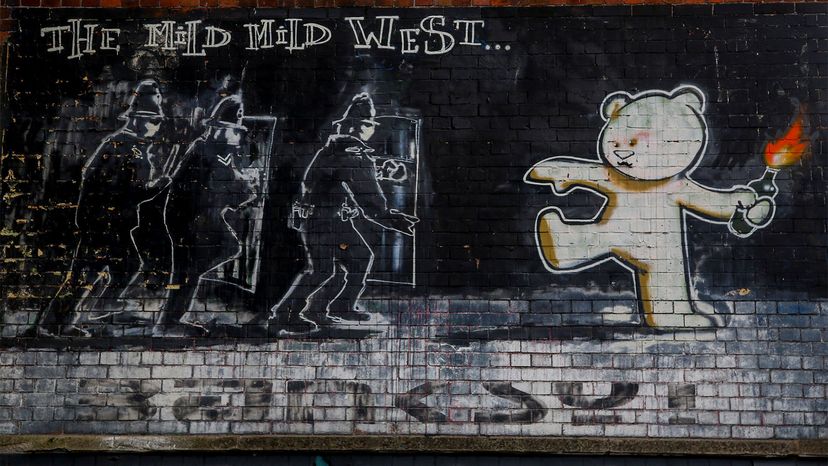 A powerful piece of street art, titled "Mild, Mild West," by British street artist Banksy showed up on the side of a building in Bristol, England.
GEOFF CADDICK/Getty Images
Turn the clock back 20 years, and a mention of "street art" might call to mind words like "graffiti" and "vandalism." But in the last decade or so, this public genre has made massive gains in acceptability and appreciation. In some cases, monetization has come along too, which has kept more than a few talented individuals from falling into the trope of starving artist.
In 2021, a painting by street artist Banksy sold for $20 million at auction. That is a long way from the early days of classic New York City underground graffiti of the 1970s and 80s. But the genre has undergone a shift from being a "private language" that was deliberately illegal and not necessarily meant to be understood by all viewers, says Prof. Paul Gough, principal and vice-chancellor, Arts University Bournemouth and author of "Banksy: The Bristol Legacy."
Early practitioners of street art included French artist Blek le Rat, Jean-Michel Basquiat, whose work is by Artnet to be "largely responsible for elevating graffiti artists into the realm of the New York Gallery scene" and Keith Haring. Their work exemplifies the fact that street art is "rooted in the revolutionary practices of those who identified with various subcultures linked to class, race, or gender," as Jessica McQueen, associate curator at Saatchi Art, explains.
Today, the political remains largely present, and of course, graffiti and vandalism still happen, but as an art form, street art is now often paid for, commissioned or at least permitted. The Street Art Museum Amsterdam calls it "an important counterculture movement that can be found all over the world." It is site-specific, and the artist considers the physical context in which it is being created. In addition to graffiti, street art has been connected to muralism, neo-graffiti and urban art, and there are many ways it can be expressed.
"Definitions are a bit elusive," says Gough. And they probably aren't helpful. "It's democratic. That's the ultimate word about street art. It's for everybody."
And that is part of its power. Street art is accessible spatially and visually to people who might never set foot inside a gallery or museum, he says.
Rather than attempting to delineate what street art is and isn't, looking at some recent works by contemporary street artists offers a picture of its breadth. Here are six powerful and provocative examples of street art – they barely scratch the surface.
1. Dugudus' Paris Commune
Talk about revolutionary roots – French artist Dugudus installed a diverse array of 50 life-size cutouts of Communards on the steps of the Place Louise Michel to mark the 150th anniversary of the Paris Commune. A three-month insurrection that began on March 18, 1871, the Paris Commune saw people's committees running the capital and the official government exiled to Versailles, according to the BBC.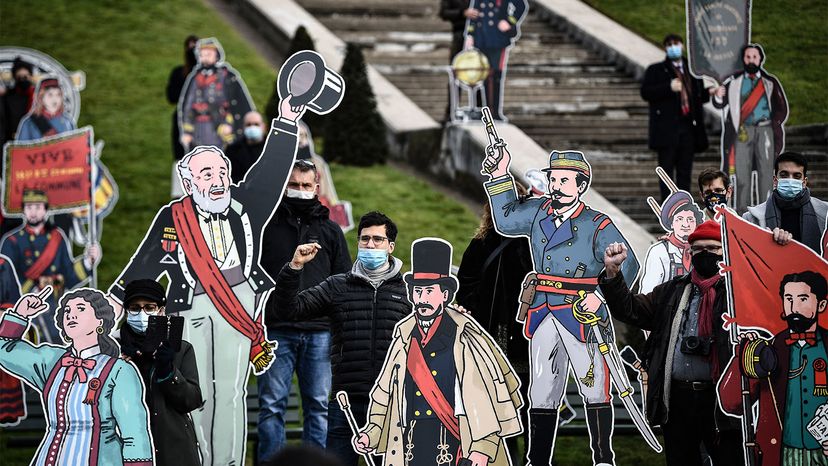 Silhouettes of the Communards created by the artist Dugudus stand in front of the Sacré Coeur Basilica in Paris, on March 18, 2021, to commemorate the 150 years of the Commune of Paris.
ANNE-CHRISTINE POUJOULAT/AFP/Getty Images
2. Falko One's Elephants
Street art is known for its connection with urban spaces, and artist Falko One got his start painting in Cape Town, South Africa, in the late 1980s. But it was while painting in a small village in Dakar, Senegal, that he hit upon his signature colorful elephants. In remote locations, his playful murals "transform and reinvigorate villages and towns," according to Culture Trip.
3. Maya Hayuk's Colorful Abstracts
Known for massive abstract street work with detailed and intricate painted patterns, feminist artist Maya Hayuk refuses to work with galleries that exhibit fewer than 10 percent female artists. "Melt the Guns," her 2013 mural in East London demonstrated her signature style, which is visually appealing but has "a deeper political undertone," according to Artsper Magazine.
4. Stik's 'Big Mother'
Street art doesn't have to be complicated or intricate to be meaningful, but being enormous doesn't hurt. A case in point – the artist Stik's well-known "Big Mother," a 13-story mural formerly located on the side of the Charles Hocking House social housing tower in London. It was "a symbol of protest against the destruction of social housing," according to Stik's website, a message that took on additional poignancy when its building was demolished.
5. Clet Abraham's Sign Hacks
Clet Abraham, who goes by Clet, is a Florence, Italy-based artist who adds humor and meaning to existing street signs. Unlike sticker art that might cover a surface, he harmonizes with his "canvases." Nevertheless, his work takes on serious topics too like "I Can't Breathe," about which he states on his website, "Once again, a human being has died under the weight of authority."
6. Banksy's 'Achoo'
This list cannot end without a work from Banksy, the mystery artist whose Instagram bio calls him an "overrated graffiti artist." During the height of the COVID-19 pandemic, Banksy painted this image of a sneeze on the wall of a home in Bristol, England. Gough notes that during dark times, like a national lockdown, street artists have the ability to give something back to the people.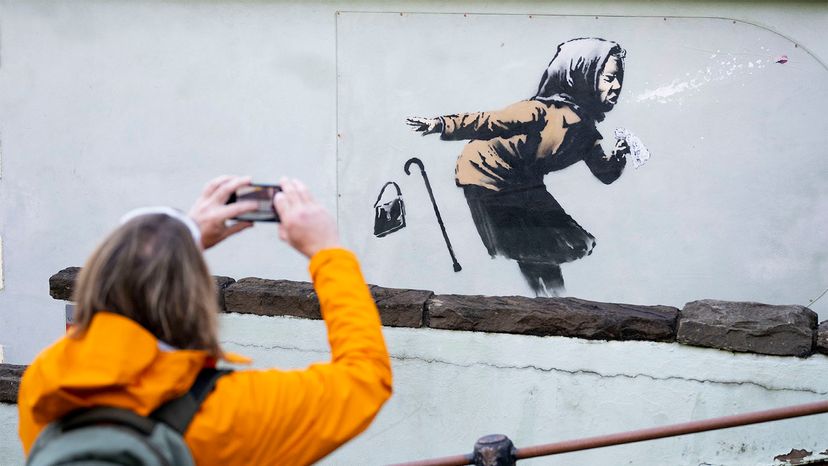 Banksy claimed the artwork "Achoo" as his in a tweet after it appeared on the side of a house on Vale Street in Bristol, England overnight on a random Thursday in 2020, during the height of the COVID-19 pandemic.
Matthew Horwood/Getty Images
HowStuffWorks may earn a small commission from affiliate links in this article.