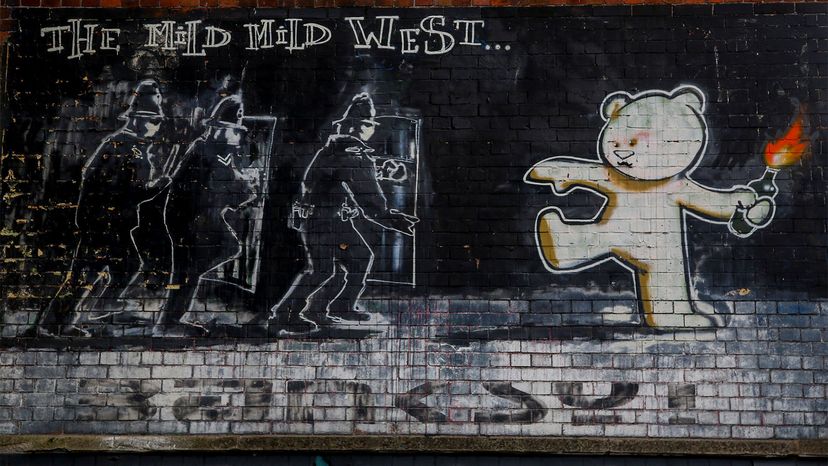 Turn the clock back 20 years, and a mention of "street art" might call to mind words like "graffiti" and "vandalism." But in the last decade or so, this public genre has made massive gains in acceptability and appreciation. In some cases, monetization has come along too, which has kept more than a few talented individuals from falling into the trope of starving artist.
In 2021, a painting by street artist Banksy sold for $20 million at auction. That is a long way from the early days of classic New York City underground graffiti of the 1970s and 80s. But the genre has undergone a shift from being a "private language" that was deliberately illegal and not necessarily meant to be understood by all viewers, says Prof. Paul Gough, principal and vice-chancellor, Arts University Bournemouth and author of "Banksy: The Bristol Legacy."
Early practitioners of street art included French artist Blek le Rat, Jean-Michel Basquiat, whose work is by Artnet to be "largely responsible for elevating graffiti artists into the realm of the New York Gallery scene" and Keith Haring. Their work exemplifies the fact that street art is "rooted in the revolutionary practices of those who identified with various subcultures linked to class, race, or gender," as Jessica McQueen, associate curator at Saatchi Art, explains.
Today, the political remains largely present, and of course, graffiti and vandalism still happen, but as an art form, street art is now often paid for, commissioned or at least permitted. The Street Art Museum Amsterdam calls it "an important counterculture movement that can be found all over the world." It is site-specific, and the artist considers the physical context in which it is being created. In addition to graffiti, street art has been connected to muralism, neo-graffiti and urban art, and there are many ways it can be expressed.
"Definitions are a bit elusive," says Gough. And they probably aren't helpful. "It's democratic. That's the ultimate word about street art. It's for everybody."
And that is part of its power. Street art is accessible spatially and visually to people who might never set foot inside a gallery or museum, he says.
Rather than attempting to delineate what street art is and isn't, looking at some recent works by contemporary street artists offers a picture of its breadth. Here are six powerful and provocative examples of street art – they barely scratch the surface.