Deluge Within the Sistine Chapel Ceiling
One of the earlier scenes Michelangelo painted on the ceiling and one of the four large scenes that stretch from cornice to cornice, Deluge (1508-12) is a work of tragic and terrifying grandeur.
Despite the beauty of the tightly conceived sculptural groupings, the painting is more scattered and fragmented in composition than later scenes. It shows, in comparison to the later frescoes, how Michelangelo's style changed as he grew more confident.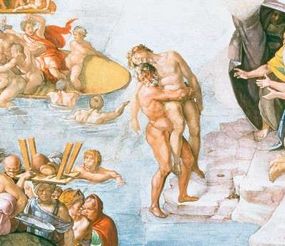 Detail from Deluge within the Sistine Chapel ceiling.
A poignant detail of the Deluge shows a struggling father, grieving as he bears the weight of his drowned son.
The next detail from the Sistine ceiling by Michelangelo is the scene showing the Creation of Eve by a very fatherly God.
To learn more about Michelangelo, art history, and other famous artists, see: