Creation of Adam Within the Sistine Chapel Ceiling
Michelangelo delicately expressed the marvelous unity of body and spirit in the figure of Adam in Creation of Adam (1508-12), a striking and incomparable vision of God's omnipotence and the godly potential of humans.
The fatherly power of God, his body stretched to its full majesty and might, is in perfect contrast to the humble longing of Adam, who is about to be graced with a soul through the splendor of God's touch.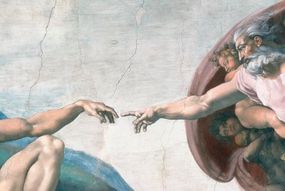 Detail from Creation of Adam.
In conceiving this gesture between Adam and God and the force that flows through the space between the two outstretched hands, Michelangelo revealed his great intellectual ability to reimagine an old subject. He created in this intimate space a gesture of such living power that it serves as the focal point of the entire ceiling.
One of the earlier Sistine Chapel ceiling scenes is that of Noah's flood. Read more about Deluge by Michelangelo on the next page.
To learn more about Michelangelo, art history, and other famous artists, see: