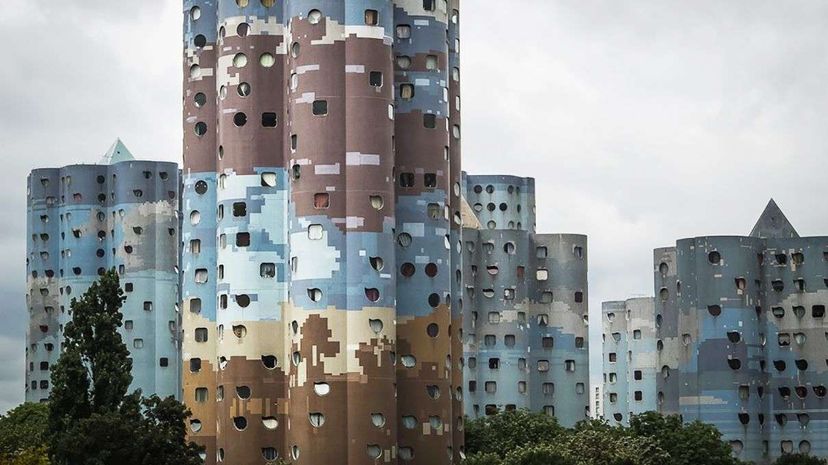 The French photographer Laurent Kronental photographer undertakes some serious urban exploration. His investigation into the marginalized postmodern housing projects of Paris and its sprawling suburbs has resulted in a captivating photo essay. In the images, Kronental spotlights residents of the otherworldly places, often build in the postwar period stretching from the 1950s and representing architectural styles like Brutalism and Surrealism.
And while a few of the places Kronental explores are abandoned, most simply fall into the category of "forgotten." As he explains in the CNN video above, he's particularly intrigued by structures built for public housing, which may still function as communities but tend to have an elderly population.
Take the Espaces d'Abraxas, for instance. Created by Spanish architect Ricardo Bofill in the late 1970s, the 600-apartment social housing complex southwest of Paris doubled as a shooting location for Terry Gilliam's dystopian 1985 film "Brazil."
"As you enter the space you have an impression of grandeur," Kronental says in the CNN video above, marveling at the "anachronistic allure" of the structure. While some may see decay in these aging public housing projects, Kronental has a different perspective. "I really wanted to address this misunderstood beauty of these buildings that I found to be majestic," he says.
The Picasso Arena housing estates, for instance, were built to accommodate the post-WWII boom in immigrants from abroad and migrants moving from rural areas to the city. The Tours Aillaud are two of the tallest apartment buildings in France, and feature teardrop-shaped and round windows, and are painted abstract colors.
And then there's Le Viaduc and Arcades du Lac, another Ricardo Bofill building outside France. Constructed atop a lake, the apartment buildings appear to float on its surface.

"I hope that photography has the power to make you reflect. I don't give the answer," says Kronental of his examination into a generation of residents seemingly forgotten, "but I suggest that we ask ourselves certain questions."