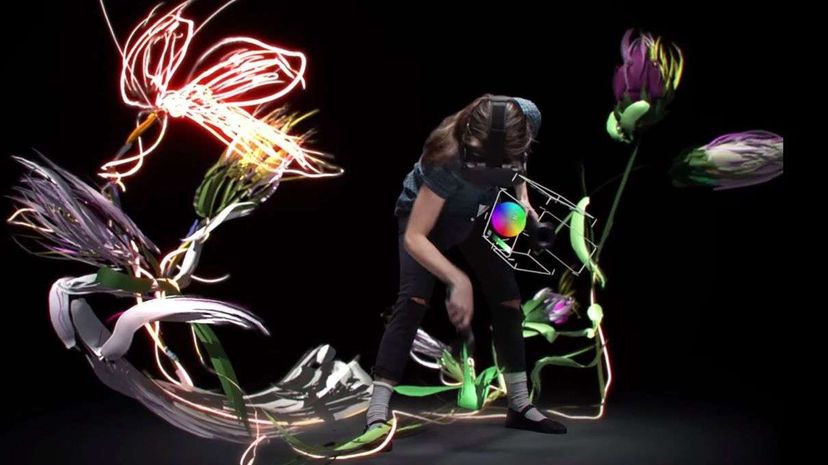 From the dinky Nintendo Virtual Boy of 20 years ago to today's state-of-the-art Oculus Rift, the experience of virtual reality has promised easy access to immerse yourself in other worlds. But with the recent expansion of Google's new Tilt Brush software, users won't just explore virtual worlds — they'll be able to create them by painting in three dimensions.
Google acquired the company Skillman & Hackett and its Tilt Brush app last year, and just made Tilt Brush available through the online store Stream.
With only a pair of VR goggles and a controller, users will access a number of different virtual reality brush styles from straightforward lines to paint splatters. Even more elaborate effects like stars, glowing lights, snow, smoke, running liquid and flickering flame effects are all available and highly customizable. Artists can display their finished — or ever-evolving — pieces as fully immersive 3-D scenarios that viewers with VR headsets or access to other interactive 3-D portals can experience. The work can also be displayed in animated GIF form, or as static snapshots taken from various angles.
Currently available for use only on the HTC Vive VR system, Tilt Brush is a relatively new software only now making its way to a wider audience, and its uses seem pretty wide open at this point — think of Photoshop in its early days. We can imagine cool applications in animation, fashion, education, medicine and even space exploration.
Here's another look at Tilt Brush, this time tested out by artists from around the world. The reaction?
"Part of my work is calligraphic," says Mexican artist Said Dokins in this video. "Basically I had an idea of what I wanted to do, but when I entered the virtual space, at that moment everything changed.":