Army Specialist Jamaal R. Addison was deployed to Iraq just after his wedding. On March 23, 2003, he was killed in an ambush. He was the first soldier from Georgia to die in the war. Addison left behind a wife, two young children, and scores of friends and family members shaken by the loss. When Atlanta portrait artist Lisa Gleim learned of his death, she felt compelled to give back to Addison's loved ones in the only way she knew how: through her work.
"Jamaal's mother and I sat down together and looked at pictures of him on her computer," Gleim says. "She told me stories about Jamaal and I wanted to capture what it was about him that she wanted most to remember. She had a favorite photo of him out of uniform and she loved his smile. I said, 'Lets capture what it is about him you want — if it's his smile and casualness, let's go there.'"
The result was an oil painting presented to Addison's family and closest friends on the anniversary of his death. "The unveiling was very emotional since it was in front of his family and friends," Gleim says. Although the creative process and delivery were challenging, Gleim felt compelled to continue paying tribute to fallen Georgia soldiers, as well as victims of violence and other crimes. In 2005, Art From the Heart was born.
Part of the Atlanta Fine Arts League (AFAL), Art From the Heart is an ongoing community project comprising local artists who donate their time and talents to create portraits of Georgia's service men and women who have died in the line of duty while in Afghanistan and Iraq. Gleim took inspiration from her previous participation in Portrait Project 9/11, when she painted the portrait of fallen New York City firefighter Tommy Foley. Prior to launching Art From the Heart, she had also contributed her artistic skills to two other organizations dedicated to honoring victims of violence, crime, and injustice: Freedom 58 and Lost Dreams on Canvas.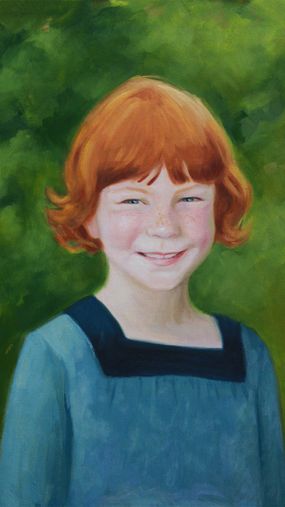 "Lost Dreams on Canvas is a portrait exhibition of children who were innocent victims of violence," says the organization's director, Judy Ringold. "Since 1993, over 100 volunteer artists have painted over 500 portraits of innocent murdered children, commemorating their brief lives, lost hopes, and dreams, including the children murdered at Sandy Hook Elementary School. Lisa painted a beautiful portrait of Catherine Hubbard, a 6-year-old killed in the massacre in 2011."
"As a kid, I wanted to be a portrait artist," Gleim says. "And I felt as an artist that there's just something special about a painting versus a photograph. A photo just captures a millisecond in time. With this project, the family provides multiple photos, and there's just something about the artist's soul and passion that gets conveyed in the painting that helps bring it to life."
It was during her studies at the Pennsylvania Academy of Fine Art that Gleim first became involved with Lost Dreams on Canvas, and other similar organizations that eventually prompted her decision to launch Art From the Heart. "I wanted to offer something to families of fallen soldiers — all these young people," she says. "They're so young — 19, 20, 21. I just wanted to offer something to say thank you for their sacrifice and for the family's sacrifice. People tend to think that it's the soldier giving up the most, but I think it's the family that's left behind. This is just my patriotic way of saying, 'we value what you've done,' and if I can offer my talent to make them a family heirloom, it's my pleasure."
Thanks to sponsorships and the generosity of participating artists, Gleim and the other portrait painters are able to offer their work to families completely free of charge. Both framing and shipping companies have extended discounts and free services to the Art From the Heart team. "The only cost to the artist is the time and paint materials, but it wasn't hard to solicit artists to participate," she says. "We even ended up with more artists than families at one point and had to have a waitlist."
There are currently 22 AFAL members, and Art From the Heart has produced close to 200 portraits (with some contributed by non-members; Gleim has completed five). "Basically, we have a list of families and a list of artists, and we match them up line by line, so a family can't request a specific artist and the artist can't say which family they'd like to work with — that's figured out when they're matched."
While the paintings have an obvious emotional impact on recipients of the work, it's hard not to wonder what kind of effect the creative process has on artists like Gleim. "I can name each one of the soldiers I've painted," she says. "It's almost like I really get to know them in a way that I didn't expect, having their families tell you stories, seeing their photos, and piecing it all together." All of the commissions present emotional challenges for Gleim, but one in particular affected her in an unexpected way.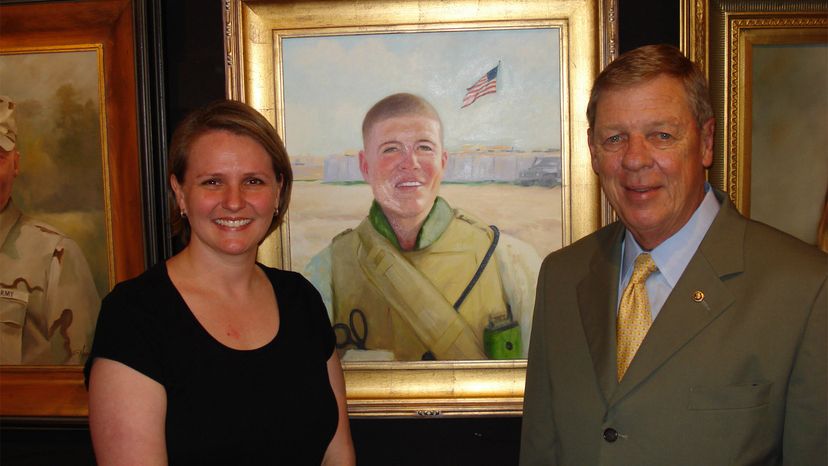 "Maybe it was his age or that he'd only been over there [at war] for a week, but it was all so tragic," she says. "Of course, they're all tragic, but there was something about his that really got to me and I had to stop for a while. I put it away, I turned it around — I was getting so emotionally drained, and it wasn't because I was new at it — I'd done a few before. But we'd done a project exposition for the families at an event that I worked hard on for a long time and I was just immersing myself in so much loss, it hit me all at once when I was painting him. I put it aside and took a breather and worked on — who knows — a dog or a landscape or something. When I felt better, I knew why I was doing it and when I finished, I felt really good about it."
One way Gleim manages her own emotions is to focus on the recipients of her work. "I just remember that no matter how emotional I'm feeling, the family has it so much worse," she says. "I'm doing this because I want them to feel good about their loved one and have a memento to pass down for generations. That helps me feel better and not get sucked into the sadness."
For families interested in commissioning a 20 x 24-inch head and shoulders portrait of a loved one from Art From the Heart, email AtlantaFineArtsLeague@Yahoo.com (include "FAMILY") in the subject line, or visit the organization's website.