Position: Pitcher; Manager
Teams Include: Detroit Stars, Chicago American Giants, St. Louis Stars, Kansas City Monarchs, 1920-1941

Andy Cooper was a big, strong, left-handed pitcher who is often considered among the best two or three lefties in the annals of Negro League ball. But despite his size, "Lefty" was not a speed specialist; he was rather a master craftsman, with excellent control, who mixed up his pitches and his opponents' minds at the same time. He had at least four breaking pitches in his repertoire, and if a batter should reach, he had to worry about the devastating move to first that Cooper presented.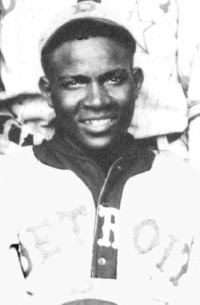 Among Negro League left-handers,
only Bill Foster was considered a greater
pitcher than Andy Cooper.
Born in Waco, Texas, Andrew Cooper (1898-1941) spent his first eight years in the Negro National League with the Detroit Stars. After putting together a 5-11 record his first two years, he stepped to the fore the next five seasons, compiling records of 14-5, 15-8,12-5, 12-1, 12-8, and 7-3. Those kinds of performances caught the eye of Kansas City Monarchs owner J.L. Wilkinson, who engineered a trade, dealing five of his players to land the talented southpaw.
Lefty didn't disappoint. He went 13-7 in 1928, and then went 13-3 as the Monarchs won the 1929 Negro National League pennant. The powerful team won 34 of its last 40 games. Cooper was especially valuable because he served as a fine relief pitcher when not starting. In fact, in a five-game series, the opposition would often have to deal with the daunting lefty three times, as he would start two games and relieve in a third. He holds the Negro League record with 29 saves.
Cooper bounced around the next few years, and he participated in a 1933-34 tour of Asia with Lonnie Goodwin's All-Star team. Back with the Monarchs in 1936, he compiled a record of 27-8 as the league-less team took on all comers.
He also pitched in the All-Star Game. When the Negro American League organized for the 1937 season, Lefty wasn't just the team's ace; he was their manager as well. He threw a 17-inning 2-2 tie in the first-half playoffs-at age 39. He managed the Monarchs to two more flags in 1939 and 1940.
Throughout his career, he routinely won twice as many as he lost. In fact, his lifetime stats average out to a 16-8 annual record. Cooper was elected to the Hall of Fame by the Special Committee on Negro Leagues in 2006.
Lefty's son, 77-year-old Andy Cooper Jr., felt real pride when his dad was elected, as he recalled in a telephone interview with the Hall of Fame. He said, "I was elated. I thought, 'Oh boy, lookie here.' What an honor. The Hall of Fame, it's an astronomical thing. I was really very happy and felt real good and still feel good. I've been on Cloud Nine since I found that out. I'm just tickled to death."
Here are Andy Cooper's Negro League statistics*:
| | | | | | | | |
| --- | --- | --- | --- | --- | --- | --- | --- |
| W | L | G | CG | IP | H | BB | SO |
| 118 | 57 | 283 | 109 | 1,455.0 | 1,330 | 263 | 476 |

*Note: Cooper's career statistics are incomplete.

See more information on the Baseball Hall of Fame:
See the players in the Baseball Hall of Fame by position:
See the members of the Baseball Hall of Fame by team: