Position: Pitcher; Infielder; Executive
Teams: Boston Red Stockings, 1871-1875; Chicago White Stockings, 1876-1878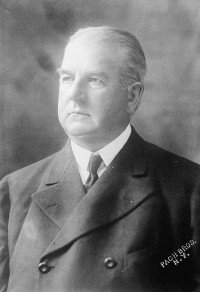 Al Spalding's baseball career saw
the rise of the National League.
Born in Byron, Illinois, into a prosperous farming family, Albert Goodwill Spalding (1850-1915) was forced to go to work as a grocery boy at age nine because his father died. By the time Spalding was 16 years old, he was already pitching for the Rockford Forest Citys, one of the top teams in the Midwest. After beating the George Wright-led Washington Nationals the following year, he was offered $40 per week to pitch for the Chicago Excelsiors.

Back with the Forest Citys in 1869, Al played on a team that lost only four games that season, all to the undefeated Cincinnati Red Stockings. Two years later, Spalding accepted a $1,500-a-year offer from Harry Wright to join the Boston team in what was to be baseball's first all-professional league, the National Association.

In his five years with the Red Stockings, Spalding posted a 207-56 record and played on four pennant winners. The Hub team was so good that the NA collapsed after 1875 because of a lack of competitive balance.

Spalding was instrumental in the demise of the NA when he deserted the circuit to join the Chicago club in the newly formed National League as a player-manager. Pitcher Spalding proved to be manager Spalding's greatest asset, winning 47 games and sparking the White Stockings to an easy pennant. He pitched just one more victory in the NL, however, and then switched to playing the infield.

Soon thereafter, though only 27 years old, he quit as a player altogether. The reason for his early retirement was that the curveball had become an integral part of the game, and Spalding could neither learn to throw one nor to hit one.

Al and his younger brother opened their first sporting goods store in 1876. The following year, the brothers produced their first Official Baseball Guide. When William Hulbert died in 1882, Spalding became president of the Chicago White Stockings, a role he held until 1890.

Spalding was affiliated with baseball only peripherally after the 1891 season. Politics and his sporting goods business consumed most of his attention. He was instrumental, however, in negotiating the peace settlement between the American and National Leagues in 1903. Two years later, he started a committee to investigate the origins of baseball. Spalding died in 1915 and was elected to the Hall of Fame in 1939 as both a player and a pioneer.

Here are Al Spalding's major league totals:


See more information on the Baseball Hall of Fame:
See the players in the Baseball Hall of Fame by position:
See the members of the Baseball Hall of Fame by team:
Advertisement