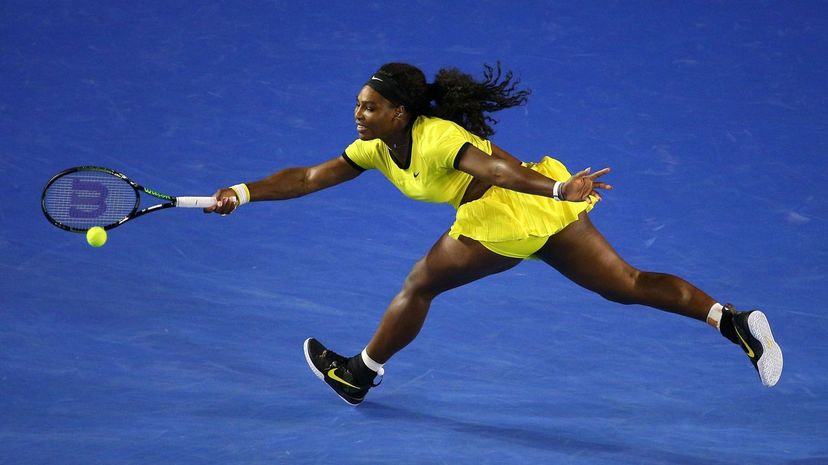 Billions of people around the world love tennis, badminton and squash, and now racket sports are loving them right back in the form of reduced mortality risk. According to the results of a study recently published in the British Journal of Sports Medicine, these sports lead the pack in reduced risk of death from all causes by 47 percent, with a 56 percent lower risk of heart disease and stroke-related death, to boot.
The study followed survey respondents for an average of nine years per person between 1994 and 2008. More than 80,000 adults over age 30 in England and Scotland were surveyed about the type, amount and intensity of physical activity completed during the four weeks prior. The survey inquired about the six most popular sports: cycling, swimming, running, football, racket sports and aerobics.
Of the initial 80,306 responders, 8,790 died from any cause, including 1,909 from stroke or cardiovascular disease (CVD), also known as heart disease, during the study period. The risk-reduction numbers were calculated in comparison with survey responders who didn't engage in any of the sports during the same period.
"We know that all these sports have beneficial short term effects on e.g. cardiovascular risk factors," explains lead researcher Dr. Pekka Oja of the UKK Institute in Finland in an email interview. "Therefore, one would expect that these effects might show up also in the mortality rates. However, up till now there has not been measured evidence of the effects of specific sports on the all-cause or cardiovascular disease mortality."
Here's how the stats looked for the sports as far as reducing all causes of death:
Sport                                                                Percentage Reduction in Death From CVD
Racket Sports                                                                      56
Swimming                                                                             41 
Aerobics (including dance and gymnastics)            36 
No significant reductions were found for participating in cycling, running or football (soccer to Americans). Death due to any cause was 47 percent less for players of racket sports, 28 percent less for swimmers and 27 percent less for aerobics enthusiasts. Cyclists also showed a 15 percent reduction in that risk. Again, there were no significant reductions for people participating in running or football.
"Racket ball is the perfect example of a high-intensity type workout where you perform an all-out exertion for a certain time period followed by a slower rest/recovery phase. When you perform what is also called high-intensity interval training like this, it increases your metabolic rate and lowers your insulin resistance," he says. "This helps create skeletal muscle adaptions which help you burn more fat and create glucose tolerance." 
Research has shown that heart disease is linked more to your intake of sugar and carbs rather than to your intake of saturated fat. "So when you perform higher intensity exercise you allow your body to get into a better hormonal state so that it can manage the sugar it takes in. A lack of exercise does the complete opposite and leads to more heart disease," adds Logie.
So far, so good. But why did running and soccer fare so poorly at reducing deaths? Well, certain limitations affected the researchers' ability to analyze that data. The percentage of survey participants who played soccer/football was very low. And though running has been shown to reduce CVD and all causes of death in other studies, the authors speculate four weeks might have been too short to show an impact in this activity. "The runners (as well as the football players) were younger than participants in the other sports to begin with. We would need five to 10 years' further follow-up to find out how effective participation in running is," Oja notes.
Still disheartened? Don't toss those trainers in the trash just yet. "This is the first large scale study of the kind. It shows clear associations, but one study doesn't demonstrate the 'truth,'" he explains. "We need more similar studies to corroborate these results. We also need studies with other common sports in order to demonstrate the health potential of the whole spectrum of sport participation.
"One can choose any one of these sports according to one's personal likings and opportunities in order to reduce the risk of death," Oja adds. So, for your best shot, engage in what suits you most.