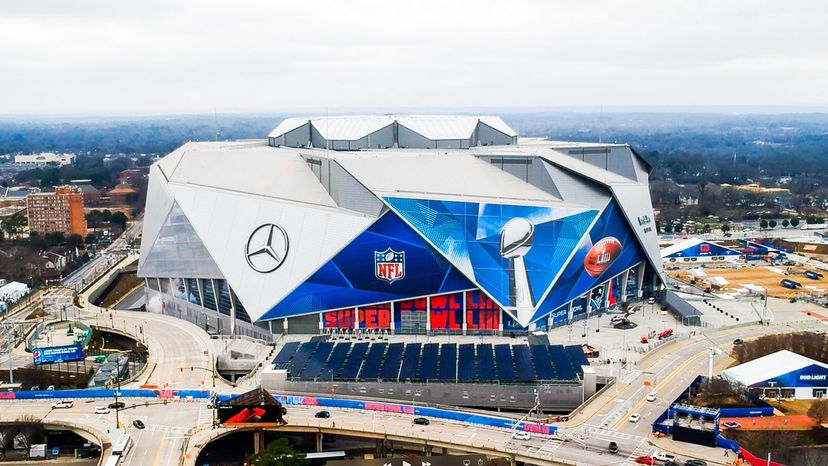 The Patriots, the Rams and legal gambling are coming to Super Bowl LIII!
City of Atlanta
If past Super Bowls are any indication, somewhere around $5 billion will be wagered on Super Bowl LIII in Atlanta. Only a fraction of that is legally wagered, of course; the rest placed with friendly (and, perhaps, not-so-friendly) bookies on the betting black market.
Super Bowl LIII, though, figures to be a little bit different. In May 2018, the U.S. Supreme Court struck down a longstanding federal law that banned betting on sports events, effectively paving the way for states to start raking in wagers. Seven states quickly passed legislation to join grandfathered-in Nevada. Delaware, New Jersey, Rhode Island, Pennsylvania, West Virginia, Mississippi and New Mexico all now allow betting on single games. That means that, when it comes to that $5 billion of Super Bowl betting bling, more of it will be done legally.
"I think that it is bigger than what people had anticipated," Sara Slane, the senior vice president of public affairs for the American Gaming Association, says of the early results. "There's just been a pent-up demand by consumers to want to bet in a legal, regulated fashion."
Legalized Sports Betting
Different states have different ways to handle legal betting on sports. Delaware, which became the first state to ratify the U.S. Constitution in 1787, became the first state to OK sports betting after the Supreme Court's decision in May. Delaware's sports books — places where the betting takes place — opened in early June 2018 in the state's three casinos and have been taking bets on all sorts of sports, in all sorts of ways, ever since. The Delaware Lottery regulates the betting.
You have to be 21 to bet on sports legally in Delaware, which takes wagers on all the major sports (football, basketball, hockey, baseball) in addition to golf, tennis, auto racing, boxing, MMA and others.
New Jersey opened its sports books shortly after Delaware's and, according to the AGA's Slane, has pulled in around $1.5 billion in wagers on various sports. "That's a massive number," Slane says. "The mobile platform didn't even get up and running. And they're still not at their full capacity yet. So I do expect that those numbers will continue to increase."
(Some states offer mobile wagering, where you can place a sports bet through a smartphone app. The app uses location services to make sure you're within state lines.)
Though lots of money is being wagered legally, and much more could be coming, the casinos that are taking the bets, and the states themselves, don't necessarily see a ton of it.
"The Mid-Atlantic is a pretty saturated area to begin with," John Hensley, the general manager and senior director of horse racing and sports at Dover Downs Hotel & Casino, says. "As this rolls out state to state, there will obviously be some cannibalism everywhere. But you won't know that until it happens."
The competition already is fierce, and sports betting is a relatively low-margin product for casinos (or "racinos," as those with horse racing and other forms of racing often are called) anyway. Winners have to be paid, after all, along with the tax collectors. Overhead has to be figured in. This is not a get-rich scheme for those taking the bets.
"We don't look at this as a revenue-driver," Hensley says. "We look at it as a tool, an extra amenity."
The way Hensley and other operators see sports betting at brick-and-mortar casinos, it's an add-on; while you're there, after placing a bet on your favorite NFL team, you may want to take in a show, hit the slot machines, play a few hands of poker and eat at a fancy restaurant.
Taking a Bite Out of Crime
The move toward legalized gambling is something that the AGA — representing a gaming industry that has $261 billion worth of economic impact annually, according to the group — has long been after. Mainly, it's a way to earn back some of the billions wagered illegally on sports every year.
The Super Bowl is a perfect example of how big the gap between legal and illegal gambling is.
Last year, the AGA expected about $4.76 billion to be bet on Super Bowl LII in Minnesota. The group estimated that 96 percent of that — about $4.6 billion — was to be bet illegally. The final numbers were probably bigger on both sides, considering Las Vegas (again, the only place that could take legal bets before the SCOTUS ruling last year) pulled in a record $158.58 million on the game last season.
This year, with more states allowing legal sports betting, the total amount of bets taken is almost certain to rise while the percentage of illegal bets figures to drops. That stands to benefit a lot of law-abiding people in a lot of places.
"It's been a tremendous opportunity for the casino industry. Certainly, it reaffirms what we've been saying, which is that gaming is a mainstream form of entertainment," Slane says. "The further alignment now between the industry and the sports industry just really speaks to what consumers want. They love placing bets on sports."