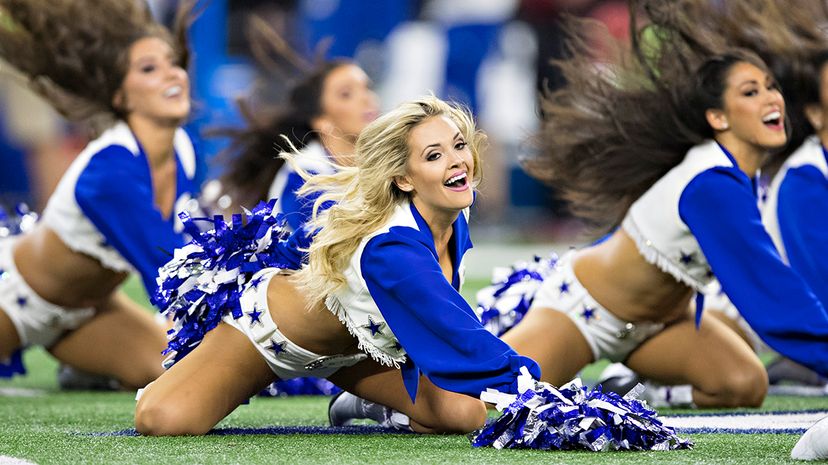 The Dallas Cowboy Cheerleaders are among the most famous in the NFL.
Wesley Hitt/Getty Images
A 25-year study conducted by researchers at Purdue University and the University of Southern California found that that media coverage of women's athletic events changes the way female athletes are perceived, often reinforcing gender stereotypes. The study, which was published in the September 2017 journal of Gender & Society, determined that women's sports received less entertaining and thorough coverage, and suggested those factors lead to lower ticket sales and lower salaries for the athletes.
According to the research, during the '90s, coverage of female athletes was "overtly sexist," then changed in the 2000s to become more trivial by dwelling on the athletes' traditional gender roles (motherhood, wives, etc.) rather than athletic accomplishments. By 2014, coverage "depicted women's sports in a lackluster manner, which they call 'gender bland sexism'."
During that same 25-year period of the study, there was also an increase in women's roles in professional sports — as cheerleaders, dancers and promotional models. Both trends stem from the sexist notion that women should stick to "traditional gender roles."
The 2017 study was co-authored by Dr. Cheryl Cooky, associate professor of American studies at Purdue University. Cooky is an expert in the sociology of sports and says those who defend sexist practices in sports cannot simply claim it is a tradition.
"There is no merit to that claim," Cooky says via email. "While something may be a practice from the past — or a tradition — that itself does not justify or excuse the sexism that those practices reinforce or uphold."
"If sports organizations are going to have cheerleaders or dancers as part of the 'entertainment' for fans, then we should be advocating for those women to receive fair wages and compensation," Cooky says. "I am much more concerned with institutionalized forms of sexism that disadvantage women in sports, than pointing the finger on individual athletes and questioning the choices they make." Cooky stressed that it is unproductive to judge the women who make a living in these roles.
Unfortunately, Cooky's study only proves that sexism continues to permeate sports. Read on for five of the most blatant examples.