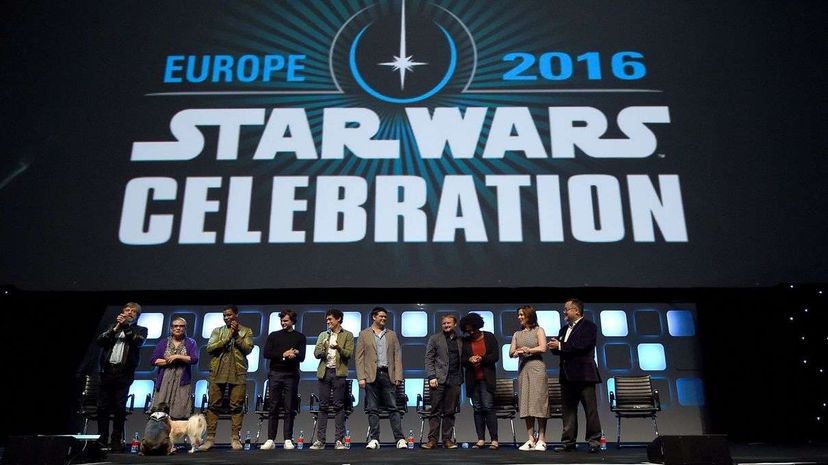 The final panel at Star Wars Celebration Europe was the gathering place for the minds shepherding the future of the "Star Wars" franchise. Earlier in the convention, Director Gareth Edwards debuted a new look at his upcoming film, "Rogue One: A Star Wars Story." And Dave Filoni, creator and supervising director of the "Star Wars: Rebels" TV series revealed the world the return of fan-favorite character Grand Admiral Thrawn in both the series and in book form. So attendees we eager and excited to see what sort of glimpse of the future Lucasfilm might give the, to wrap up the weekend's festivities. Here are some of tidbits that were shared in the last event before closing ceremonies:
1. Alden Ehrenreich is Han Solo. Alden Ehrenreich has long been rumored to have snagged the part of everyone's favorite smuggler in the yet-to-be-titled young Han Solo film, but Lucasfilm brought him out on Celebration stage to make the announcement official. According to directors Phil Lord and Christopher Miller, Ehrenreich was literally the first person who auditioned for the part. They screen tested him aboard the Millennium Falcon set and even saw how he'd handle acting alongside his Wookiee first-mate, Chewbacca. He did it the best without being intimidated by his iconic surroundings, and that won him the part.
2. No time elapses between "The Force Awakens" and "Episode VIII." "Episode VIII" is going to be unique among "Star Wars" films in that no time will have elapsed between the ending of "The Force Awakens" and the new installment. Director Rian Johnson brought the cast and crew back to Skellig Michael in Ireland to film what happens immediately after Rey hands Luke Skywalker that lightsaber. Between every other "Star Wars" movie installment, at least months several months elapsed on the timeline. "When I started coming up with the story," Johnson says, "I didn't think about it, we start immediately where the last movie leaves off."
3. "Star Wars" directors will have cameos in each other's films: Directors of each of the new "Star Wars" films are making cameos in the other films. In the upcoming "Rogue One," Johnson, who is directing "Episode VIII" cameos as a Death Star gunner. "Episode VIII" will see a cameo from "Rogue One" director Gareth Edwards. The Han Solo directors, Miller and Lord, were set to cameo in "Rogue One," but they were unable to remain on set long enough to get it filmed. Expect to see them in a future "Star Wars" picture.
4. Rian Johnson had new types of sets built. During the production of "Episode VIII," Johnson had sets with interiors and exteriors built. That way, he could place actors in a space ship and film them from the outside of without having to composite a shot together. He stressed that, although green screens were being used on the film, they built so many fantastic sets for "Episode VIII" that we will see shots in this film unlike any ever seen in "Star Wars."
5. The Han Solo film will begin shooting in early 2017. The directors of the new Han Solo film revealed that they've already moved their families to London to begin the months long pre-production process. They will oversee art designs and set construction over the rest of 2016 so that they can begin filming in late January or early February in 2017. The film is scheduled for release in 2018, so the production schedule will give Lord and Miller a comfortable amount of time to pull off a film that many consider to be one of the riskiest for the "Star Wars" franchise.