The 2001 baseball season, full of surprises early and late, was entertaining throughout. Some teams that were expected to contend collapsed out of the gate, such as the White Sox, Rangers, and Rockies. Other clubs, namely the Twins, Phillies, and Cubs, surprised early but slumped down the stretch.
Big-ticket free agents, such as Alex Rodriguez of Texas and Mike Hampton of the Rockies, couldn't help their clubs to the top. The year's best "new" player was Seattle speedster Ichiro Suzuki, who after nine brilliant seasons in Japan won American League MVP honors (.350, 242 hits) in 2001.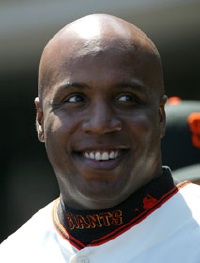 ©SportPic
Barry Bonds broke
Mark McGwire's
home run record in 2001.

However, as the Mariners drove toward the all-time record for wins, and Giants slugger Barry Bonds threatened Mark McGwire's home run mark, baseball was knocked out of the nation's consciousness. The September 11 terrorist attacks brought baseball to a standstill for a week. When the players and fans returned, they were greeted with patriotic touches, including flags on players' caps and jerseys and the singing of "God Bless America" during the seventh-inning stretch.

Bonds eventually knocked 73 apples out of the park, passing McGwire on the season's last weekend. Unfortunately for the superstar slugger, his Giants couldn't reach the postseason. In the end, a familiar cast made the playoffs: Atlanta, Houston, St. Louis, Arizona, the Yankees, Seattle, Oakland, and Cleveland.

The Mariners, who had captured 116 games, stumbled through their Division Series with Cleveland and died in five to the Yankees in the ALCS. And the Astros, with the best record in the National League, immediately crumbled in their Division Series to the Braves, who in turn fell to the upstart Diamondbacks.

When Arizona and New York met in the 2001 World Series, it was more than a simple tradition-against-expansion story; it was a thrilling seven-game set. Arizona, with Cy Young winner Randy Johnson on the hill, blew out Mike Mussina and the Yankees 9-1 in game one. The following night, Curt Schilling handcuffed the visiting Bronx Bombers 4-0.

The clubs journeyed to New York, where a game-three 2-1 win by Roger Clemens put the Yankees on the board. What happened next stunned the nation.

In game four, Schilling pitched seven strong frames for the Diamondbacks, who took a 3-1 eighth-inning lead. However, Arizona closer Byung-Hyun Kim served up a two-out, two-run, ninth-inning homer to Tino Martinez. One inning later, Derek Jeter rocked Kim for a game-winning blast.

The next night, Arizona led 2-0 in the ninth, but again the Yankees struck. Scott Brosius's two-out, two-run homer -- again off Kim -- tied the game. In the 12th, New York pushed across a run to take the game and establish a 3-2 series lead.

Returning west for game six, the Yankees imploded again, suffering a 15-2 pasting by Arizona. Schilling and Clemens met in game seven. Arizona led 1-0 after six, but the Yankees scored in the seventh and took a 2-1 lead in the eighth on Alfonso Soriano's homer. Johnson, the game-six starter, relieved and shut the Yankees down.

In the last of the ninth, the Diamondbacks rallied. A Mark Grace single and a throwing error by pitcher Mariano Rivera on a bunt attempt put two men on. Tony Womack's double tied the score, and when Luis Gonzalez fisted a bloop over second base, the Diamondbacks won the 2001 World Series. Baseball once again assumed its place as a healer of national ills, and the exciting postseason garnered the best TV ratings in years.

The next page provides headlines and summaries for some of the top stories of the 2001 baseball season.

To learn more about baseball, see:
2001 Baseball Season Headlines
In 2001, Roger Clemens won his sixth
Cy Young
award, and Sammy Sosa had 160 runs. Here are some of the headlines from the 2001 baseball season:
Mark Mulder Goes 21-8, Beats Every Foe

In his first full season as a big-leaguer, southpaw Mark Mulder paced the American League in wins (21) and shutouts (four) in 2001. Mulder's 21-8 record and 3.45 ERA indicated his value to the Athletics, who rebounded from an early slump to reach the playoffs. He not only defeated every American League team that he faced, but he beat each of the four National League West clubs that he pitched against.
Roger Clemens Starts Out Year at 20-1
Roger Clemens enjoyed yet another spectacular campaign in 2001, winning his unprecedented sixth Cy Young trophy. Posting a 20-3 record after a 20-1 start, the 39-year-old righty ranked just ninth in the league in ERA but third in strikeouts (213). He also moved into third place on the all-time whiff list with 3,717.
Ichiro Suzuki Wins Bat Title, MVP
A seven-time batting champion in Japan, Ichiro Suzuki filled the void of free-agent defector Alex Rodriguez in Seattle. With blinding speed and incredible hand-eye coordination, Ichiro led the American League in batting (.350), hits (242), and steals (56). The leadoff man ignited the best offense in baseball and helped Seattle to 116 wins. He was named American League Rookie of the Year as well as league MVP.
Sammy Sosa Slams 64 More, Scores 160
While Sammy Sosa was eclipsed by Barry Bonds's home run prowess in 2001, the Cubs superstar put on a tremendous show of his own. He drove in 160 runs, the most in the majors, and crossed the plate 146 times to lead all of baseball by a wide margin. He clubbed 64 homers, giving him a record 243 over a four-year span. Also disciplined, Sosa batted .328 with 116 walks.
Luis Gonzalez Tinkers With Stance, Hits 57 Homers
At age 34, Luis Gonzalez exploded with a 57-homer campaign in 2001. He also knocked in 142 runs for the Diamondbacks and batted .325. Always a solid outfielder with good line-drive power, Gonzalez made a minor alteration in his batting stance, turning to face the pitcher even more dramatically than he had before. The adjustment gave Gonzalez extra time to see -- and crush -- pitchers' fastballs.
Rookie Albert Pujols Tees Off
After spending all but 14 at-bats of the 2000 campaign (his first professional season) in Class A, Albert Pujols broke camp with St. Louis in 2001 and quickly hit his way into the everyday lineup. He never left it, batting .329 with 47 doubles, 37 homers, and 130 RBI. He also played all over the diamond, starting at least 32 games each at first base and third base and in left field and right field. Pujols was named to the All-Star Game, was the runaway National League Rookie of the Year, and even finished fourth in league Most Valuable Player voting.
Curt Schilling: 22 Wins, 293 Ks
Pitcher Curt Schilling's postseason heroics were well documented in 2001, but he was something special during the regular season as well. Durable, he paced the National League with 35 starts, 256-2/3 innings, and six complete games. More importantly, he tied for the league lead with 22 wins. His 2.98 ERA and 293 strikeouts ranked second in the circuit behind teammate Randy Johnson's marks.
Rickey Henderson Sets Career Runs Record
San Diego's Rickey Henderson scored his 2,246th run, breaking
Ty Cobb
's 73-year-old major league record. Back on April 24, the 42-year-old Henderson eclipsed
Babe Ruth
's career walk record of 2,062. He also cracked his 3,000th career hit on the season's last day.
Check out more headlines from the 2001 baseball season on the next page.
To learn more about baseball, see:

More 2001 Baseball Season Headlines
Below are more headlines from the 2001 baseball season, including baseball teams responding to the September 11 terrorist attack and
Cal Ripken's
retirement.
Cal Ripken's Great Ride Comes to an End


On October 6, 2001, Orioles fans waved goodbye to Cal Ripken. Actually, several American League teams threw farewell parties for the veteran infielder, who at one point had played in 2,632 consecutive games. Ripken retired among history's Top 20 in games, at-bats, hits, doubles, total bases, and RBI. Though he hit just .239 in his final season, Ripken did enjoy one last hurrah in the All-Star Game, belting a home run and earning the MVP Award.
Baseball Honors America
Fans at Chicago's Comiskey Park honored America and the visiting Yankees on September 18, 2001, the first day of action for American League teams since the September 11 terrorist attacks. Each major league club saluted the heroes and remembered the victims with special pregame ceremonies. At Comiskey, players and firefighters lined the infield for the national anthem and a moment of silence. For the rest of the season, all major league players wore American flag patches, which were sewn on both their jerseys and caps.
Bret Boone's 141 RBI Power Mets
Bret Boone put together one of the top hitting campaigns ever by a second baseman. He paced the American League with 141 RBI while cracking .331 with 37 homers and 37 doubles.
Barry Bonds Breaks Homer Mark, Blasts 73!
Barry Bonds clubbed his 71st home run at home off L.A.'s Chan Ho Park on October 5, 2001. While breaking Mark McGwire's longball record, Bonds posted a .515 on-base percentage and surpassed Babe Ruth's marks for walks and slugging percentage in a season, finishing with 177 and .863. Barry became the first man to win his fourth league MVP Award.
2001 Yankees Bomb M's in ALCS
Bernie Williams took Jamie Moyer deep in game three of the 2001 ALCS. The two-run, first-inning shot seemed to doom the Mariners, who had already lost the first two games on their own turf. Seattle rallied to win this affair 14-3, but New York eliminated the 116-game winners in just five games. Williams homered in each of the last three contests.
Tino Martinez's HR Stuns the Diamondbacks
Arizona reliever Byung-Hyun Kim served up a homer in the bottom of the ninth of game four of the 2001 World Series. In the first major league game ever played on Halloween, Tino Martinez treated New Yorkers with a stunning two-out, two-run homer to tie the game, 3-3. As the game stretched into November, Yankee Derek Jeter climaxed the drama with a walk-off homer in the tenth.
Deja Vu! Scott Brosius HR Rocks Byung-Hyun Kim

Scott Brosius launches another Yankee miracle homer, this one in game five of the 2001 World Series. Helping New Yorkers heal after the September 11 attacks, Brosius cracked a two-out, two-run clout in the bottom of the ninth to tie Arizona, 2-2. D'Backs submariner Byung-Hyun Kim again served up the tying blast. New York won in 12 innings on an Alfonso Soriano RBI single, giving them a 3-2 Series lead.
Luis Gonzalez Wins Thrilling Game Seven
Victimized by Yankee Comebacks in games four and five, the D'Backs turned the tables in the finale with Arizona's Luis Gonzalez's historic game-seven hit. After Alfonso Soriano's homer gave New York a 2-1 lead in the eighth, Tony Womack tied it in the bottom of the ninth with an RBI double. With the bases juiced, Gonzalez blooped a single over second base, scoring Jay Bell for a 3-2 triumph.
The next page highlights key events and details from the 2001 baseball season.
To learn more about baseball, see:
2001 Baseball Season Highlights
The 2001 baseball season was full of surprises -- both good and bad. The nation and the game were shocked by the events of September 11, but then found comfort in an exciting postseason featuring the Yankees and the Diamondbacks. Below, you will find the highlights from the 2001 baseball season:
Arizona beats St. Louis in a thrilling Division Series that ends on Tony Womack's bloop single in game five.


The Braves allow only six runs in their National League DS sweep of Houston.


The Yankees shock the A's in their American League DS matchup by becoming the first team to win a postseason series after losing the first two at home.


The Indians take the mighty Mariners to the limit in their Division Series, but they lose game five 3-1 to Jamie Moyer and three relievers.


The Yankees wipe away the Mariners in a surprisingly easy five-game ALCS.


©SportPic
Lenny Harris broke Manny
Mota's pinch hit record
in the 2001 season.


Lenny Harris of the Mets collects his 151st career pinch hit on October 6 to break Manny Mota's old record.


Diamondbacks down the Braves in five NLCS games. Randy Johnson pitches a shutout in game one.


In the 2001 World Series, Arizona takes a 2-1 lead in games before New York stages two miracle comebacks.


After Tino Martinez's two-out, ninth-inning homer ties game four of the 2001 World Series, Derek Jeter's tenth-inning bomb wins it.


Scott Brosius's two-out, ninth-inning blast ties game five of the 2001 World Series. The Yankees win in the 12th on Alfonso Soriano's RBI single.


Facing elimination in game six, the Diamondbacks come back to thrash the sloppy Yankees 15-2.


Down 2-1 in the bottom of the ninth of game seven, Arizona rallies for two runs to shock the Yankees 3-2.


Johnson and Curt Schilling share 2001 World Series MVP honors. Johnson wins three games, while Schilling allows only four runs in three starts.


Diamondbacks win the 2001 World Series in just their fourth year of existence, the quickest that any team has won a championship in major league baseball history.


As a result of the September 11 terrorist attacks, no major league games are played for a week while minor league playoffs are canceled.


When baseball returns on September 17, "God Bless America" replaces "Take Me Out to the Ballgame" as the seventh-inning sing-along at ballparks everywhere.


Seattle finishes the regular season with a spectacular 116-46 record. The Mariners' win total sets an American League record and ties the 1906 Cubs for the major league mark.


With Houston's win over National League Central rival St. Louis on the season's final day, both teams finish with 93-69 records. The Astros earn the division crown thanks to a 9-7 head-to-head record against the Cardinals.


Barry Bonds of San Francisco belts 73 homers to break Mark McGwire's major league mark.


Bonds's record-shattering 71st tater comes off the Dodgers' Chan Ho Park on October 5 at PacBell Park.


Bonds also sets major league records for slugging (.863) and walks (177). His .515 on-base percentage is the highest in a season since 1957.


Bonds wins his record fourth National League MVP Award.


Seattle's Ichiro Suzuki becomes the first to win ROTY and MVP honors in the same season since 1975.


Suzuki captures the American League bat crown with a .350 average and collects 242 hits, the highest total in the major leagues since 1930. The speedy right fielder also paces the majors with 56 stolen bases.


Roger Clemens of the Yankees finishes with a 20-3 record and earns a record sixth American League Cy Young Award.


Clemens parlays 16 consecutive victories into a 20-1 start.


Randy Johnson (21-6) wins his fourth Cy Young Award.


Johnson paces the bigs in ERA (2.49) and strikeouts (372).


Rickey Henderson of the Padres scores his 2,246th run on October 4 to break Ty Cobb's major league record.
For more highlights of the 2001 baseball season, see the next page.

To learn more about baseball, see:
More 2001 Baseball Season Highlights
Below are more highlights of the 2001 baseball season, including Sammy Sosa's 64 homers and Tim Raines Sr. and Jr. appearing in the same game.
Rickey Henderson breaks Babe Ruth's walk record of 2,062 on April 24. He also collects his 3,000th hit on the season's final day.


Sammy Sosa of the Cubs smashes 64 homers and paces the majors with 146 runs and 160 RBI.


Colorado's Larry Walker captures his third batting crown in four years with a .350 mark.


Arizona's Curt Schilling wins 22 games to tie for the National League lead. He finishes second among National League hurlers in ERA (2.98) and strikeouts (293).


Cardinals ace Matt Morris wins 22 games to tie Schilling for the National League lead.


Seattle's Freddy Garcia leads the American League in ERA at 3.05.


Boston's Hideo Nomo paces the American League in strikeouts (220).


Nomo throws a no-hitter against the Orioles on April 4.


Oakland lefty Mark Mulder paces the American League in wins with 21.


Yankees closer Mariano Rivera collects a major league-leading 50 saves.


Colorado's Juan Pierre ties for the National League lead with 46 stolen bases.


Rookie shortstop Jimmy Rollins of the Phillies swipes 46 sacks to tie for the National League lead.


Luis Gonzalez of the Diamondbacks clubs 57 home runs, 26 more than he had previously hit in a season.


Todd Helton cracks .336 with 49 homers and 146 RBI, but the Rockies still finish last in the National League West.


St. Louis's Albert Pujols wins the National League 2001 ROTY Award and finishes fourth in MVP balloting.


Pujols rips .329 with 37 homers, 47 doubles, and 130 RBI.


Suzuki's 2001 MVP win over Oakland's Jason Giambi is one of the closest votes ever.


Giambi leads the American League in doubles (47), walks (129), on-base percentage (.477), and slugging (.660). He places second to Suzuki in batting (.342).


Texas shortstop Alex Rodriguez leads the American League with 52 home runs (an major league record for a shortstop) and 133 runs scored.


Seattle second baseman Bret Boone leads the American League in RBI with 141.


Three icons of the 1980s and 1990s -- Tony Gwynn, McGwire, and Cal Ripken -- choose to retire.


Spending most of the year on the disabled list, Gwynn collects only 33 of his 3,141 career hits.


McGwire leaves the game with 583 home runs, fifth on the all-time list, but hits only .187 with 29 dingers in 2001.


Ripken retires with 3,184 hits, 14th all-time.


Florida's A.J. Burnett no-hits the Padres on May 12, walking nine men and plunking another in the process.


Cardinals rookie Bud Smith no-hits San Diego on September 3.


L.A.'s Shawn Green clubs 49 homers.


Juan Gonzalez of the Indians bats in 140 runs.


Baltimore's Tim Raines Sr. and Tim Raines Jr. appear in the same game on October 3, becoming the second father-son duo ever to do so (Ken Griffey Sr. and Jr.).


Milwaukee establishes a major league record by striking out 1,399 times. Three Brewers total at least 150 whiffs.


The Brewers draw 2,811,041 fans to new Miller Park, which features a retractable dome.


Pittsburgh's PNC Park also opens, but the Pirates finish at 62-100.


Colorado's Mike Hampton ties a National League pitcher record by bashing seven home runs. He bats .291 with a .582 slugging percentage.


Just 38-42 on July 1, the Athletics go 64-18 over their final 82 games and capture the American League wildcard.


Houston's Lance Berkman cracks .331-34-126 and leads the majors with 55 doubles.


Pittsburgh reserve Craig Wilson bombs seven pinch-hit homers to tie the all-time single-season record.


Dave Winfield and Kirby Puckett are elected to the Hall of Fame.


Two days after the World Series, MLB Commissioner Bud Selig announces plans to eliminate at least two small-market teams.
To learn more about baseball, see: