The 2001 baseball season, full of surprises early and late, was entertaining throughout. Some teams that were expected to contend collapsed out of the gate, such as the White Sox, Rangers, and Rockies. Other clubs, namely the Twins, Phillies, and Cubs, surprised early but slumped down the stretch.
Big-ticket free agents, such as Alex Rodriguez of Texas and Mike Hampton of the Rockies, couldn't help their clubs to the top. The year's best "new" player was Seattle speedster Ichiro Suzuki, who after nine brilliant seasons in Japan won American League MVP honors (.350, 242 hits) in 2001.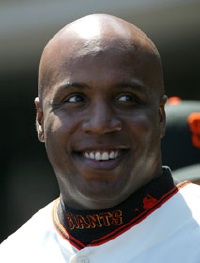 ©SportPic
Barry Bonds broke
Mark McGwire's
home run record in 2001.

However, as the Mariners drove toward the all-time record for wins, and Giants slugger Barry Bonds threatened Mark McGwire's home run mark, baseball was knocked out of the nation's consciousness. The September 11 terrorist attacks brought baseball to a standstill for a week. When the players and fans returned, they were greeted with patriotic touches, including flags on players' caps and jerseys and the singing of "God Bless America" during the seventh-inning stretch.

Bonds eventually knocked 73 apples out of the park, passing McGwire on the season's last weekend. Unfortunately for the superstar slugger, his Giants couldn't reach the postseason. In the end, a familiar cast made the playoffs: Atlanta, Houston, St. Louis, Arizona, the Yankees, Seattle, Oakland, and Cleveland.

The Mariners, who had captured 116 games, stumbled through their Division Series with Cleveland and died in five to the Yankees in the ALCS. And the Astros, with the best record in the National League, immediately crumbled in their Division Series to the Braves, who in turn fell to the upstart Diamondbacks.

When Arizona and New York met in the 2001 World Series, it was more than a simple tradition-against-expansion story; it was a thrilling seven-game set. Arizona, with Cy Young winner Randy Johnson on the hill, blew out Mike Mussina and the Yankees 9-1 in game one. The following night, Curt Schilling handcuffed the visiting Bronx Bombers 4-0.

The clubs journeyed to New York, where a game-three 2-1 win by Roger Clemens put the Yankees on the board. What happened next stunned the nation.

In game four, Schilling pitched seven strong frames for the Diamondbacks, who took a 3-1 eighth-inning lead. However, Arizona closer Byung-Hyun Kim served up a two-out, two-run, ninth-inning homer to Tino Martinez. One inning later, Derek Jeter rocked Kim for a game-winning blast.

The next night, Arizona led 2-0 in the ninth, but again the Yankees struck. Scott Brosius's two-out, two-run homer -- again off Kim -- tied the game. In the 12th, New York pushed across a run to take the game and establish a 3-2 series lead.

Returning west for game six, the Yankees imploded again, suffering a 15-2 pasting by Arizona. Schilling and Clemens met in game seven. Arizona led 1-0 after six, but the Yankees scored in the seventh and took a 2-1 lead in the eighth on Alfonso Soriano's homer. Johnson, the game-six starter, relieved and shut the Yankees down.

In the last of the ninth, the Diamondbacks rallied. A Mark Grace single and a throwing error by pitcher Mariano Rivera on a bunt attempt put two men on. Tony Womack's double tied the score, and when Luis Gonzalez fisted a bloop over second base, the Diamondbacks won the 2001 World Series. Baseball once again assumed its place as a healer of national ills, and the exciting postseason garnered the best TV ratings in years.

The next page provides headlines and summaries for some of the top stories of the 2001 baseball season.

To learn more about baseball, see:
Advertisement