1946 Baseball Season Headlines
In 1946, Mickey Vernon won a batting title and the St. Louis Cardinals won the National League pennant. Here are some of the headlines from the 1946 baseball season:
Harry Brecheen Rises in the 1946 World Series
In the 1946 World Series, Harry Brecheen ceded the Red Sox just one run in 20 innings and became the last National League lefty to win three games in a fall classic. Brecheen was a consistent winner during his eight seasons in the minors, but was judged too small to succeed up top. However, the war-time pitching shortage caused the Cards to reconsider. He went 15-15 for them during the 1946 regular season.
Forbes Field Gets a Facelift
The new Pirates owners and manager Billy Herman and Principal owner John Galbreath were astute enough to realize that, with the coming of Ralph Kiner, it was time to bring in the left-field wall of Forbes Field.
Mickey Vernon Wins the American League Bat Title
In the 20 seasons Mickey Vernon played, he won two batting titles (.353 in 1946, .337 in 1953) yet cleared the .300 mark just five times. Four of them came when he was past 35 years old. Asked about Vernon, Satchel Paige said, "I've faced the best in the world just about, but I never could get Mickey out."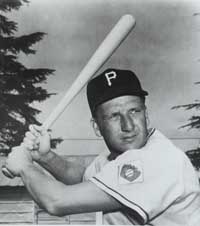 Ralph Kiner was inducted
into the Hall of Fame
in 1975.





Stan Musial Posts Three Highs
In 1946, home runs were so scarce in the National League that Stan Musial tied for fifth in the four-bagger derby with just 16. But he led the circuit in hits (228), doubles (50), and triples (20) by such a wide margin that his 366 total bases were 83 more than the National League runner-up, teammate Enos Slaughter, collected. Musial also led the league in batting at a robust .365.
Ralph Kiner Leads the National League in Homers
Kiner's minor league performance offered no hint chat he would win the National League home run crown his rookie year. Furthermore, his 23 round-trippers tied Johnny Rizzo's club record, set in 1938 when Rizzo was also a rookie. Ironically, Rizzo was back in the minors in 1946 and was never heard from again.
The St. Louis Cardinals Take the 1946 National League Pennant
Dodger catcher Bruce Edwards sheds his mask as Marty Marion of the Cardinals lifts a pop fly in the 1946 playoff series for the National League pennant. The Cardinals had to watch the Scoreboard when they lost to the Cubs on closing day of the season; St. Louis had to hope that former Cardinal Mort Cooper could beat the Dodgers and get them a tie. He did, 4-0. The Cards also won the playoff.

Check out more headlines from the 1946 baseball season on the next page.
To learn more about baseball, see:
Advertisement