Characters from the cartoon TV show 'South Park', including Elton John (rear) with (from L to R) Cartnan, Kyle, Stan and Kenny in a 1998 episode.
Hulton Archive/Getty Images
Advertisement
What should be censored? Would you know it when you see it? The Federal Communications Commission (FCC) would. Among its other responsibilities, the U.S. federal agency deals with enforcing regulations for content that is "indecent," "obscene" or "profane." For networks, that means employing censors, whose job is to exclude "certain topics, social groups or language from the content of broadcast programming," according to the Museum of Broadcast Communications, and to adhere to government standards.
Of course, the subject matter that's censored has changed over time. In 1952, Lucille Ball's character on "I Love Lucy," was pregnant, but heaven (and censors) forbid if someone used that word. Instead, Lucy was "having a baby," "expectant" or "with child." During the 1960s, actresses couldn't display their navels on shows such as "I Dream of Jeannie," "Gilligan's Island" and "Gidget" – must've been the connection between belly buttons and pregnancy that censors feared.
At times, censorship has been based less on morals and more on money. A 1959 episode of "Playhouse 90" had to delete mention of "gas chambers" in the post-World War II drama "Judgment at Nuremberg." The reason? The show's sponsor was the American Gas Association.
Every decade, certain television series challenge censors, pushing back on edits that are deemed too constricting or reactionary. Each becomes a thorn in the censor's side -- and wouldn't have it any other way. Check out the following list of some of the thorniest series ever seen on television.
10
'The Smothers Brothers Comedy Hour'
Dick Smothers, Glen Campbell and Tom Smothers on 'The Smothers Brothers Comedy Hour' in 1969.
CBS Images/Contributor/Getty Images
Advertisement
The Smothers Brothers: Tom and Dick, two nice, clean-cut young men who told jokes, played instruments and frustrated censors. From 1967 to 1969, the brothers fought with CBS over what could be aired on their popular musical variety show. Politically, the brothers were to the left, and their humor revealed it. In a 1967 skit, Tommy Smothers and Elaine May played censors, cutting words like "breast" from a script. Not surprisingly, that segment was axed. During the same year, Pete Seeger was scheduled to sing, "Waist Deep in the Big Muddy." Censors decided it insulted soldiers and banned the musical number. Somehow the song lost its inflammatory nature, because Seeger was allowed to perform it the next year.
In the final season, Harry Belafonte was supposed to perform "Don't Stop the Carnival" while violent protests from the Democratic National Convention were shown in the background. Not only was the bit slashed, but a five-minute Republican commercial for Republican presidential candidate Richard Nixon was added for good measure. At the end of their rope, CBS finally canceled the series, claiming the brothers had violated their contract by completing an episode late. Tommy and Dick later won a lawsuit that vindicated them. In this instance, the brothers got the last word.
Nichelle Nichols as Lieutenant Uhura and William Shatner as Captain James T. Kirk in the "Star Trek" episode "Plato's Stepchildren."
CBS Photo Archive/Contributor/Getty Images
Advertisement
Though the crew of the starship Enterprise had a mission "to boldly go where no man has gone before," NBC was squeamish about breaking new ground. The 1960s science fiction series about space exploration focused almost as much on Captain Kirk's love life as it did on extraterrestrial civilizations. However, in 1968, the episode "Plato's Stepchildren" went too far. The captain (William Shatner) and communications officer Lieutenant Uhura (Nichelle Nichols) were in a predicament: Aliens were controlling their actions. When the two were forced to kiss, the network intervened. The problem? Uhura was black, Kirk was white and an interracial kiss hadn't made it to television yet.
The cast didn't flinch, but executives were nervous. "Star Trek" creator Gene Roddenberry recommended taping the scene twice. They'd capture the scandalous kiss, but they'd also have a version with a simple hug. Then there'd be choices! Shatner chose otherwise. When the hugging scene was shot, he made sure the director couldn't see his face, and he mugged it up. The sabotage wasn't discovered until after the actors had already left the set. The director was forced to use the shocking kiss, but the world didn't end. It turned out, the fans didn't react negatively. Silly censors.
Jean Stapleton as Edith Bunker and Carroll O'Connor as Archie Bunker in "All in the Family."
CBS Photo Archive/Contributor/Getty Images
Advertisement
Ah, those were the days. During the 1970s, CBS's show, "All in the Family" shared the lives of a Queens working-class man, Archie Bunker, and his family. Created by Norman Lear, the show was hugely successful, earning four consecutive Emmys for outstanding comedy during its long run [source: Bio.]. But it was also a pain in the neck for censors. The series pushed against societal norms and covered new television ground, such as sexuality, impotence, abortion, divorce and bigotry. "All in the Family" challenged the TV industry by using words that had been inappropriate during the 1950s and 60s. "Hell" and "damn" became almost commonplace.
"All in the Family's" premiere set its tone. In addition to salty language, the racial epithets "kike," "spade" and "spic" spewed from Archie's mouth. CBS executives were nervous about viewers' reactions and placed additional operators at the network switchboard to handle the anticipated calls of outrage. But the audience loved to hate Archie. It became the best-rated show on television [source: Norman Lear]. Archie's wife Edith may have been "stifled," but the show's creative forces weren't.
Pictured: Mary Gross, Eddie Murphy and Tim Kazurinsky in a 1982 "Saturday Night Live" skit titled "Herpes Gone Bananas."
NBC/NBCUniversal/Getty Images
Advertisement
"Live, from New York, it's ... " whatever comes out of the cast's mouths! The longest-running American sketch comedy show premiered on NBC in 1975, and immediately sparks flew between writers and censors. The two groups sparred continually for years, going back and forth on what would air. However, by the mid-1980s, the censors were done messing around. No more negotiations -- they just said, "No." Each week, four to five suggested skits were cut from the script. Some sketches were vetoed even after they had already aired on live television. The censors wanted them cleaned up for reruns.
For example, a censor suggested axing a skit about blind man and a gay man after it was shown, because it was considered offensive to both gays and disabled people. Another sketch, in game show format, was titled "What's My Addiction?" This time, the segment had to go because the serious topic had gotten too many laughs from the audience. Producer Lorne Michaels rejected both suggestions. Better luck next time, censors.
The characters of Fallon (Pamela Sue Martin, right) and Steven Carrington (Al Corley, right) and Blake Carrington (John Forsythe) and Krystle Grant Jennings (Linda Evans) in the first season of "Dynasty," 1981.
ABC Photo Archives/Contributor/Getty Images
Advertisement
To be rich and beautiful and living in Colorado. The characters on "Dynasty" had it all. This nighttime soap opera aired on ABC from 1981 to 1989. It ran into a sticky spot with censors, however, when show runners wanted one of the main characters, Steven Carrington, to be gay. Initially, that's how he was written. But then his male lover was killed, and Steven suddenly became straight. He married a woman, divorced her and then fell in love with another man. That romance also ended in the death of the lover. After that, Steven was portrayed as confused and waffled in his sexuality. However, during the 1991 reunion show, Steven appeared as a happy, successful character -- with a male partner.
ABC censors probably shouldn't have worried about Steven's orientation. During much of its run, "Dynasty" was up there in the ratings. In its sophomore season, the show ranked No. 5, and it reached third place the next year. By the end of the '84 to '85 season, the show was right at the top [source: Museum of Broadcast Communications -- Dynasty].
New York City Mayor Rudolph Giuliani, left, gives the key to the city to filmmaker Michael Moore outside City Hall, during taping of an episode of Moore's NBC television series "TV Nation" in May 1994.
Catherine McGann/Getty Images
Advertisement
Blink and you would have missed it, but Academy Award-winner Michael Moore ("Bowling for Columbine") had an NBC show during the summer of 1994. It then moved to Fox for a very brief period. "TV Nation" gave Moore the opportunity to explore news stories that the media had cast aside. It also gave censors the opportunity to swing the hatchet.
Several segments of "TV Nation" were cut from broadcast, though they later became available on video. For instance, Moore investigated the less-than-important but extremely amusing issue of condom size. The prophylactics come in regular and extra-large sizes, but not in small. Censors believed viewers in the American South would be offended. In another episode, Moore investigated assassinations of abortion doctors. It was axed because advertisers would avoid a show covering the topic. Moore also looked into a high school student who received extra credit for protesting homosexuality at funerals of AIDS victims. Again, the subject matter was rejected. However, networks in 20 other countries had no problem airing the segments.
4
'Late Show with David Letterman'
After their eyebrow-raising interview, David Letterman and Madonna appeared together as presenters on the 1994 MTV Movie Awards.
Jeff Kravitz/FilmMagic/Getty Images
Advertisement
Laid-back comedian David Letterman had a stressful night on March 31, 1994, when Madonna was a guest on his CBS late-night talk show. Though it became one of Letterman's highest-rated episodes, it's also the most-censored talk show to date. The host introduced his guest with a crack about her active sex life. Madonna sauntered onto the set in a long black dress and combat boots and proceeded to the use the "f" word 14 times.
When Madonna was finally offstage, Letterman joshed that Mother Teresa would be up next and kidded (presumably) that his show had been canceled. Madonna's version: Everyone on the show was in on the joke and encouraged her. Also, she was highlighting the FCC's hypocrisy in allowing graphic violence but not strong language. And maybe she was also going for a world record ...
3
The 2003 Golden Globes Awards
U2's Bono, left, and The Edge following their acceptance speech at the 60th Annual Golden Globe Awards on Jan. 19, 2003.
NBC/NBCU Photo Bank/Getty Images
Advertisement
You know how you get really excited and start cursing? Well, it happens. At least it did to U2 lead singer Bono, who was ecstatic at the Golden Globes Awards when the music from "Gangs of New York" won him a statue. On camera, he enthused that the win was "really, really, very brilliant." However, he substituted the f-word for "very." This incident not only pushed limits; it set new limits for censorship.
The incident led the FCC to establish a rule covering any future broadcasts of what the agency called "fleeting expletives." From then on, if networks allowed such language on the air, they opened themselves up to hundreds of thousands of dollars in fines. Yeah, no. A federal court declared this regulation unconstitutional. The Supreme Court also ruled against the FCC in 2012, indicating that the declaration was imprecise. Guess the FCC doesn't have Bono's way with words.
The central character in the animated series 'Family Guy' is Peter Griffin, second from right.
Fox/Getty Images
Advertisement
Just like "All in the Family," Seth McFarlane's show about an American clan is known for pushing verbal boundaries. The animated series on Fox negotiates with censors. There is some give and take about what has to go and what can slide by. Ironically, a 2005 episode about censorship had the dad, Peter, trying to start his own network. The episode was censored for language.
However, a 2009 episode on abortion was not even allowed on the air, because the network was concerned about scaring off advertisers. Peter's wife Lois is acting as a surrogate mom for an infertile couple. No good deed goes unpunished, and the couple dies in a car accident. What's Lois going to do about the pregnancy? Though the show was not broadcast, it was performed live and untaped for members of the Academy of Television Arts & Sciences. Censors couldn't touch that.
Characters from the cartoon TV show 'South Park', including Elton John (rear) with (from L to R) Cartman, Kyle, Stan and Kenny in a 1998 episode.
Hulton Archive/Getty Images
Advertisement
The longest-running animated series on Comedy Central has been keeping censors busy since 1997. Show creators Matt Stone and Trey Parker are equal opportunity button-pushers, taking digs at all races, ethnicities, religions and political affiliations. Sometimes the jokes hit hard. In 2006, Stone and Parker wanted to comment upon a Dutch controversy. A newspaper printed editorial cartoons featuring the image of the Prophet Muḥammad, which is banned by Islam. The network did not want "South Park" to display Muḥammad's picture. The solution: hide the image behind a black box stamped "Censored."
Another issue with Islam came up in 2010, but this time Stone and Parker cut out the middleman and placed the black box over Muḥammad's image themselves. They also replaced the prophet's name with a bleep. They were trying, but Comedy Central added even more bleeps and refused to put the episode on "South Park's" website. It's just never enough ...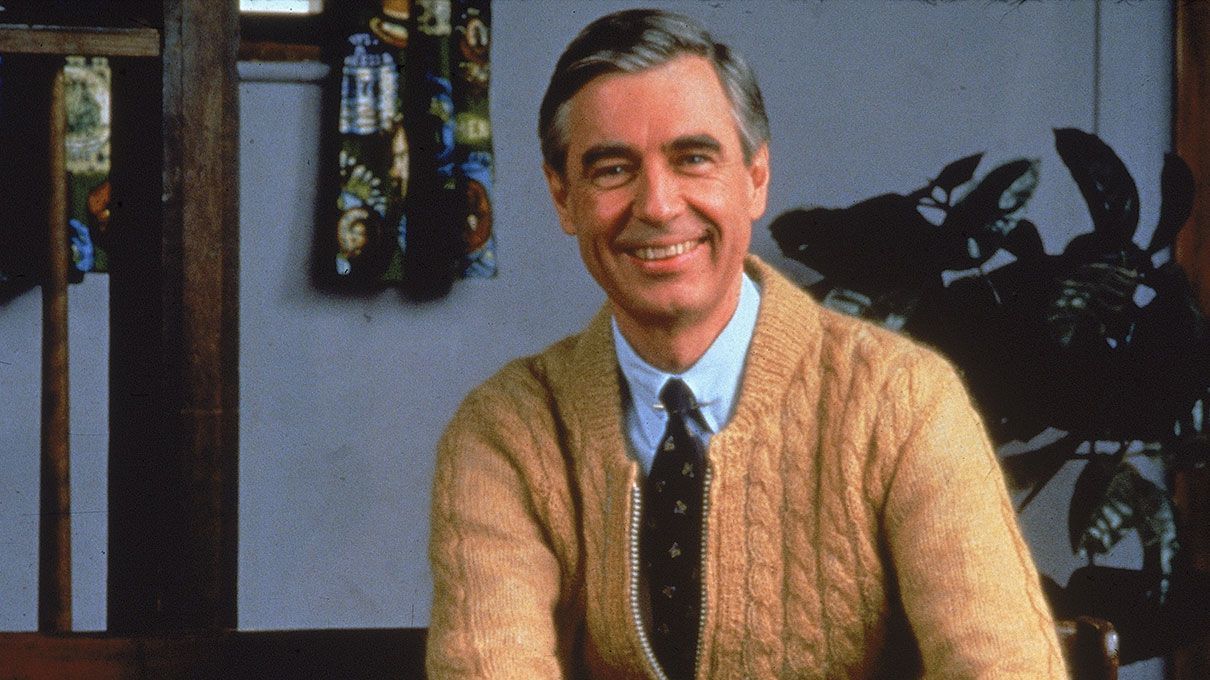 Up Next
It's a beautiful day in the neighborhood, as HowStuffWorks finds out more about Fred Rogers.
---
Related Articles
Sources
Bio. "Norman Lear." 2014. (Nov. 14, 2014) http://www.biography.com/people/norman-lear-9376137#all-in-the-family

Cohen, Adam. "Washington's Tiresome War on Curse Words." Time. Sept. 1, 2010. (Nov. 14, 2014) http://content.time.com/time/nation/article/0,8599,2015157,00.html

Du Brow, Rick. "When Does TV Cross the Line?" Los Angeles Times. Nov. 3, 1991. (Nov. 14, 2014) http://articles.latimes.com/1991-11-03/entertainment/ca-1772_1_network-prime-time

Federal Communications Commission. "Obscene, Indecent and Profane Broadcasts." Oct. 20, 2014. (Nov. 14, 2014) http://www.fcc.gov/guides/obscenity-indecency-and-profanity

Fox, David. "Steven Switches...One More Time." Los Angeles Times. Oct. 5, 1986. (Nov. 14, 2014) http://articles.latimes.com/1986-10-05/entertainment/ca-4267_1_jack-coleman

Heigl, Alex. "The Most Censored Interview Ever: Madonna's 1994 Letterman Appearance Turns 20." People. March 31, 2014. (Nov. 14, 2014) http://www.people.com/people/article/0,,20801703,00.html

Itzkoff, David. "'South Park' Episode Altered After Muslim Group's Warning." The New York Times. April 22, 2010. (Nov. 14, 2014) http://www.nytimes.com/2010/04/23/arts/television/23park.html?_r=0

Jacobs, Matthew. "Madonna's Infamous 'Late Show With David Letterman' F-Bomb Rampage, 20 Years Later." Huffington Post. March 31, 2014. (Nov. 14, 2014) http://www.huffingtonpost.com/2014/03/31/madonna-david-letterman_n_5050993.html

Kneis, Andy and Ryan Menezes. "6 Sneaky Ways Movies and TV Shows Outsmarted the Censors." Cracked. Nov. 21, 2013. (Nov. 14, 2014) http://www.cracked.com/article_20670_6-sneaky-ways-movies-tv-shows-outsmarted-censors.html

Koch, Neal. "Why Mel Brooks and Bill Moyers Will Always Idolize Norman Lear." Huffington Post. Nov. 10, 2014. (Nov. 14, 2014) http://www.huffingtonpost.com/neal-koch/norman-lear-pen-award_b_6130620.html

Lang, Derrick. "'Family Guy' Censored Abortion Episode Performed Live." Huffington Post. Sept. 13, 2009. (Nov. 14, 2014) http://www.huffingtonpost.com/2009/08/13/family-guy-censored-abort_n_258531.html

Lendler, Ian. "A timeline of TV censorship." CNN. Aug. 1, 2007. (Nov. 14, 2014) http://www.cnn.com/2007/LIVING/wayoflife/07/31/censorship/

Museum of Broadcast Communications. "Censorship." 2014. (Nov. 14, 2014) http://www.museum.tv/eotv/censorship.htm

Museum of Broadcast Communications. "Dynasty." 2014. (Nov. 21, 2014) http://www.museum.tv/eotv/dynasty.htm

Myers, Randy. "`TV Nation' Videos Include Censored Routines." Seattle Times. Jan. 11, 1998. (Nov. 14, 2014) http://community.seattletimes.nwsource.com/archive/?date=19980111&slug=2728030

NormanLear.com. "The Team Behind Archie Bunker." 2014. (Nov. 14, 2014) http://www.normanlear.com/backstory_press_7.html

NPR. "'The Uncensored Story' Of The Smothers Brothers." Oct. 15, 2010. (Nov. 14, 2014) http://www.npr.org/templates/story/story.php?storyId=130569467

Ryan, Maureen. "'Family Guy' outfoxes censors." The Chicago Tribune. Nov. 4, 2005. (Nov. 14, 2014) http://featuresblogs.chicagotribune.com/entertainment_tv/2005/11/family_guy_outf.html

Sacks, Mike. "Supreme Court Overturns Fleeting Expletives Ruling, Ducks Larger Issues." Huffington Post. June 21, 2012. (Nov. 14, 2014) http://www.huffingtonpost.com/2012/06/21/supreme-court-fleeting-expletives-fox-v-fcc_n_1614368.html

Shales, Tom. "Where The Wild Things Are? Not On 'Saturday Night Live.'" Philly.com. Oct. 16, 1987. (Nov. 14, 2014) http://articles.philly.com/1987-10-16/news/26216165_1_censors-sketch-lorne-michaels

Stambler, Lyndon. "The Smothers Brothers." Television Academy. Oct. 19, 2010. (Nov. 14, 2014) http://www.emmys.com/news/smothers-brothers