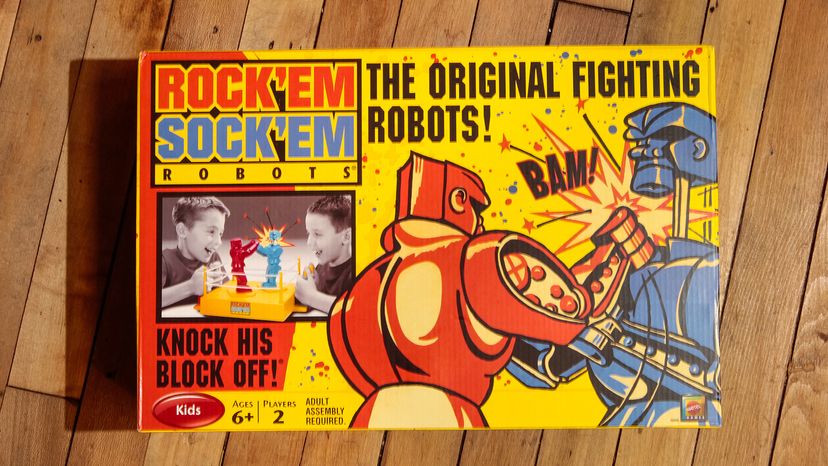 Children of the '70s were the last generation of kids to grow up sans the video game systems that dominate the modern toy market. Sure, Atari hit the market in 1972, but most kids of the era were still heading to the local arcade to get their video game fix. More importantly, '70s kids were still playing with real toys, not virtual and electronic-based alternatives. Relive the decade that gave the world "The Brady Bunch," "Star Wars" and the lava lamp with our list of the 10 most far-out toys of the '70s.
10: Stretch Armstrong
If you can't help but conjure up a sweet, syrupy smell when you hear the name Stretch Armstrong, then you are most definitely a child of the '70s. The toy's gel-like, flexible interior was made using simple boiled corn syrup; any kid who ever got overly curious and cut into a Stretch Armstrong — or simply managed to stretch the character beyond his breaking point — knows exactly how that gooey interior smells (or tastes) [source: Katz]. The 15-inch tall Armstrong would generally stretch as much as 4 or 5 feet before snapping back to his original form, sans stretch marks. Fans of the toy may also remember similarly stretchy variations, including a monster, a serpent and even Batman and Donald Duck versions.
9: 'Star Wars' Action Figures
Travel back to a galaxy far, far away, when "A New Hope" reigned supreme at the box office and kids everywhere clambered to get their hands on one of the 3.75 inch "Star Wars" action figures. While the first movie came out on Memorial Day weekend in 1977, toy company Kenner hadn't quite realized just how in-demand the toys would be. With no way to get toys on store shelves in time for Christmas, Kenner instead sold more than 300,000 empty boxes, which contained mail-away cards that could be traded for action figures — when the company could actually get around to making them. Once Kenner found its groove, the company sold a whopping 26 million figures of Luke, Leia and the "Star Wars" crew in 1978 alone, ranking them among the best-selling toys of the decade [source: Sansweet and Neumann].
8: Rock'em Sock'em Robots
Designed in the 1960s as a boxing game between human figures, Marx toys figured it would be way less gruesome to market Rock'em Sock'em Robots with robots instead of humans — makes sense, considering the character's heads actually pop off in defeat. Kids today might think they've got the fastest thumbs in town thanks to constant texting, but no one could match the thumb speed of the '70s generation, whose rapid-fire trigger thumbs sent millions of robot heads soaring in the ultimate battle for victory. Mattel now owns the license to the game, making it more accessible to the next generation; unfortunately, changes in materials and construction mean that you won't hear the characteristic buzzing and ringing you remember from the original game.
7: Weebles
"Weebles wobble, but they don't fall down!" Introduced in 1971, Weebles were inspired by Romper Room's Punching Clown, which had a weighted bottom that made it impossible to knock over [source: Hunter]. The egg-shaped toys made it easy for little fingers to play without constantly knocking things down and came with dozen of different play sets, from a haunted house to a circus set. If you played with the first generation of Weebles, you may remember that the plastic wrapping, which gave the characters their features, was relatively easy to peel. Later versions came with a peel-proof wrapping, though it was still possible to remove or damage if you tried hard enough [source: Cooper and Bellmont]. Characters ranged from simple townsfolk to licensed characters like Mickey Mouse and even Santa Claus. Hasbro, which first introduced the line more than four decades ago, still produces Weebles to this day.
6: Easy-Bake Oven
Inspired by pretzel vendors in New York, Hasbro launched the very first Easy-Bake Ovens during the 1960s, but it wasn't until the '70s that this toy really hit its stride, allowing millions of kids to bake their very own cakes and desserts without help from mom or dad. The '70s version of this toy relied on the fact that incandescent bulbs generate way more heat than they do light — bad news for efficiency fans but good news for kids who loved delicious desserts, as these bulbs could safely bake a cake in around 15 minutes without the need for a traditional heating element. More than 50 years after its creation, the Easy-Bake Oven is still going strong, with more than 23 million units sold since 1963 [source: Strong National Museum of Play]. Unlike the girl-oriented versions of the '70s, today's ovens come in gender-neutral colors, allowing both boys and girls to get their bake on.
5: Magna Doodle
While attempting to create a dust-free chalkboard, a trio of engineers inadvertently invented the Magna Doodle in 1974 [source: Sobey and Sobey]. A touch-screen of sorts for the '70s generation, the Magna Doodle used a magnetic pen to draw particles of iron up towards the surface of the toy, creating pictures or text. Unlike many other forms of art for kids, this toy was completely mess-free and totally reusable — just slide to erase. While similar to the Etch A Sketch, Magna Doodle offered slightly different features, making it easier to manage for younger kids who couldn't quite manage to master the knobs on the Etch A Sketch. Even less artistic kids could get in on the fun, using simple stamps and other props to create pictures — no drawing talent required.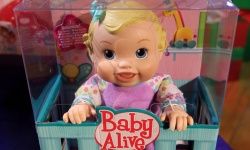 4: Baby Alive
Girls have always loved to practice their nurturing skills on baby dolls, but one '70s icon took the doll to the next level. Introduced by Hasbro in 1973, Baby Alive looked like any other plastic doll, with molded features and curly blond hair. Unlike other dolls, however, this baby could make noises and move her head, arms and legs. She could also eat and drink just like a real baby — but all that food had to go somewhere. Yup, Baby Alive gave little girls the chance to learn all aspects of baby care, including diapering. Despite the ick factor, Baby Alive sold more than a million units per year through the '80s, as well as three times that amount in food and diapers — hey, at least it's good practice for motherhood, right [source: New York Magazine]?
3: NERF Ball
"It's NERF or nothin'!" Hey children of the '70s, bet you played with a NERF ball at some point — but do you know what "NERF" stands for? It stands for "non-expanding recreational foam," the same stuff used to protect drivers in certain types of racing events. When playing around with the material in 1969, a group of toy designers figured it would make an excellent ball for indoor play. Parker Brothers debuted the first NERF ball in 1969, a simple, round ball, marketed as the only ball you could use indoors without upsetting mom or dad. The toy was an instant success, selling more than 4 million units in 1970 alone and going on to become one of the hottest toys of the decade thanks to variations like the NERF basketball and the famous NERF football [source: Townsend].
2: Lite-Brite
Like the Easy-Bake Oven, the Lite-Brite relied on the power of the trusty incandescent bulb. The bulb projected light into a triangular box, which featured a screen equipped with hundreds of tiny holes. Popping a sheet of black paper over the screen helped block the light so kids could create designs using small translucent pegs that could be popped into each hole. If you've never played with a Lite-Brite, think of it like a modern computer where you design an image pixel by pixel, with each colored peg representing a single pixel. The light from the bulb illuminated each peg, giving it a colorful glow. Kids with limited creative skills could still create top-notch Lite-Brite images using "color-by-letter" templates that told you exactly where to place each peg, making it easy to create pictures of notable characters like Mickey Mouse and Santa Claus.
1: Big Wheel
All of the coolest kids in the '70s rode 'round the 'hood on low-slung tricycles made from sturdy plastic. The Big Wheel put the cool factor back in the trike and also made it less likely to tip over, so kids were less likely to suffer injuries. Of course, the low-slung nature of the Big Wheel meant there were plenty of ways to pick up scrapes and scratches while fulfilling your need for speed, bumping over curves and speeding down steep driveways. The original model came in red, blue and yellow, but there were plenty of special editions to choose from, including "Q*bert" and "CHiPs" versions, if you preferred a flashier color scheme.