John Belushi with wife Judith poses at the premiere party for "Animal House," a project that wasn't as ill-fated as "Atuk" would prove to be.
Ron Galella, Ltd./WireImage/Getty Images
Advertisement
This curse is a weird one because it's basically the same as "Confederacy of Dunces." It's the rare case where a single curse is powerful to cover two unmade comedy films. Almost everything is the same: John Belushi was set to star in this satire about an Inuit hunter in New York City, but he died. John Candy and Chris Farley were also going to play Atuk at various times, but they died before production began.
The difference with "Atuk" is that the movie was about to be filmed with comedian Sam Kinison. Kinison himself demanded creative control of the project and wanted to rewrite major parts of the script, then allegedly threatened to intentionally do a bad job acting if he didn't get his way [source: Raouf]. There were lawsuits, but it all came to nothing when Kinison died in a car crash.
The message here? Don't mess with "Atuk."
Keep reading for more links to crazy Hollywood stories.
Author's Note: 10 Movies That Were Supposedly Cursed
This is such a fun topic undermined by the fact that curses don't actually exist. But it was a great excuse to tell a bunch of stories about weird things that happened on film sets. As every movie lover knows, things that happen to actors are a zillion times more important than things that happen to normal humans.
Related Articles
Horror Movie Weapon of Choice Quiz
Sources
Adams, Cecil. "Did John Wayne die of cancer caused by a radioactive movie set?" The Straight Dope. Oct. 26, 1984. (Jan. 6, 2015) http://www.straightdope.com/columns/read/374/did-john-wayne-die-of-cancer-caused-by-a-radioactive-movie-set

Appelo, Tim. "Natalie Wood, Christopher Walken's 'Brainstorm': How the Actress' Death Derailed Her Final Film." Hollywood Reporter. Nov. 18, 2011. (Jan. 9, 2015) http://www.hollywoodreporter.com/news/natalie-wood-death-christopher-walken-brainstorm-263800

Channel 4. "The Omen Curse." 2005. (Jan. 5, 2015) https://www.youtube.com/watch?v=RjVRHTzIpj8

Corliss, Richard. "Oz Revisited – Part 2: How They Made It Wonderful." Time. Sept. 17, 2013. (Jan. 9, 2015) http://entertainment.time.com/2013/09/17/oz-revisited-part-2-how-they-made-it-wonderful/

Didcock, Barry. "Curse of the OMEN and other Hollywood hexes." Herald Scotland. Oct. 23, 2005. (Jan. 9, 2015). http://www.heraldscotland.com/sport/spl/aberdeen/curse-of-the-omen-and-other-hollywood-hexes-from-the-omen-to-the-exorcist-and-rosemary-s-baby-there-are-tales-of-fatal-accidents-devil-worship-doomed-planes-and-car-crashes-barry-didcock-looks-at-some-of-the-most-cursed-films-of-all-time-and-find-1.39414

Hyman, Peter. "A Conspiracy of Dunces." Slate. Dec. 14, 2006. (Jan. 8, 2015). http://www.slate.com/articles/news_and_politics/hollywood/2006/12/a_conspiracy_of_dunces.html

IMDb. "Curse of the Exorcist." (Jan. 9, 2015). http://www.imdb.com/title/tt0433544/

Jackovich, Karen G. and Sennet, Mark. "The Children of John Wayne, Susan Hayward and Dick Powell Fear That Fallout Killed Their Parents." People magazine. Nov. 10, 1980. (Jan. 8, 2015) http://www.people.com/people/archive/article/0,,20077825,00.html

McGasko, Joe. "The Superman Curse." Biography.com. June 18, 2013. (Jan. 7, 2015) http://www.biography.com/news/the-superman-curse-21259185

Norman, Neil. "Dark side of Oz: The exploitation of Judy Garland." Daily Express. April 5, 2010. (Jan. 9, 2015) http://www.express.co.uk/expressyourself/167269/Dark-side-of-Oz-The-exploitation-of-Judy-Garland

Patterson, John. "Who Killed Superman?" The Guardian. Nov. 17, 2006. (Jan. 8, 2015) http://www.theguardian.com/film/2006/nov/18/features.weekend1

Power, Ed. "The Wizard of Oz - Dark side of the rainbow." Irish Examiner. Sept. 15, 2004. (Jan. 7, 2015) http://www.irishexaminer.com/lifestyle/features/the-wizard-of-oz--dark-side-of-the-rainbow-286270.html

Pringle, Thomas. "Photographed by the Earth: War and media in light of nuclear events." European Journal of Media Studies. Autumn 2014. (Jan. 9, 2015) http://www.necsus-ejms.org/photographed-earth-war-media-light-nuclear-events/

Raouf, Neda. "The 'Atuk' Curse." Los Angeles Times. Feb. 21, 1999. (Jan. 9, 2015) http://articles.latimes.com/1999/feb/21/magazine/tm-10276

Rennell, Tony. "The maddest movie ever: Why Apocalypse Now is the finest film of modern times." Daily Mail. Dec. 5, 2009. (Jan. 9, 2015) http://www.dailymail.co.uk/tvshowbiz/article-1233293/The-maddest-movie-Why-Apocalypse-Now-finest-film-modern-times.html

Romano, Lois. "Riding Accident Paralyzes Actor Christopher Reeve." Washington Post, June 1, 1995. (Jan. 7, 2015) http://www.washingtonpost.com/wp-dyn/articles/A99660-1995Jun1.html

Sellers, Robert. "The strained making of 'Apocalypse Now'" The Independent. July 4, 2009. (Jan. 9, 2015) http://www.independent.co.uk/arts-entertainment/films/features/the-strained-making-of-apocalypse-now-1758689.html

Snopes.com. "Poltergeist Deaths." (Jan. 5, 2015) http://www.snopes.com/movies/films/poltergeist.asp

White, Micah. "The Poltergeist Curse: 'It's Heeere...'" Biography.com. Oct. 22, 2013. (Jan. 5, 2015) http://www.biography.com/news/the-poltergeist-curse-its-heeere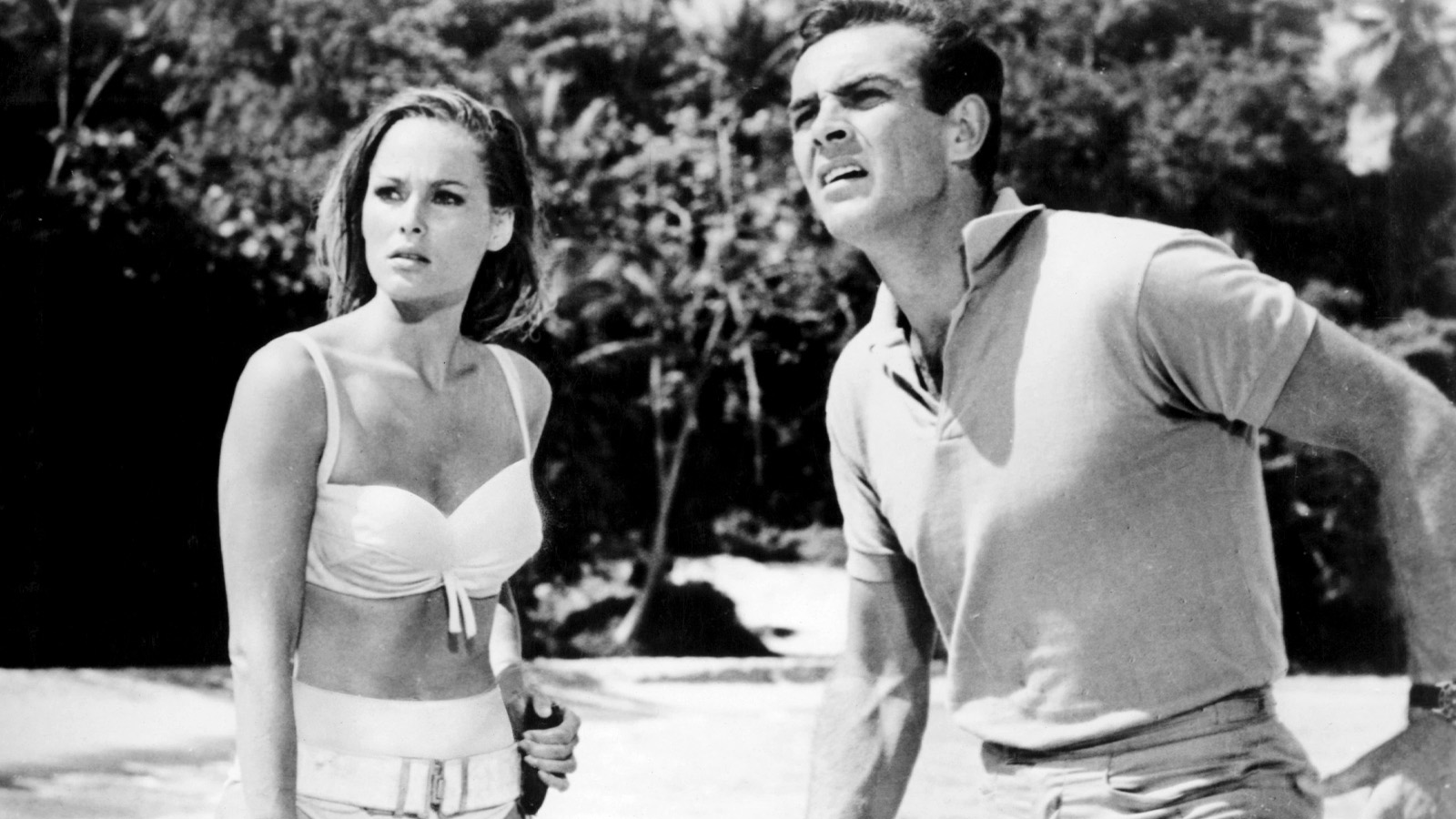 Up Next
In honor of the 25th 007 film, 'No Time to Die,' HowStuffWorks is celebrating 25 Bond Girls, whose looks all but gave them a license to kill.
---